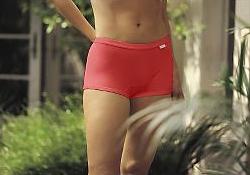 Backpackers and people like me who travel light are always trying to free up space in their luggage. When I'm away for a week or more, it seems my entire suitcase is full of underwear. Ex Officio luckily has a line of quick drying men's and women's scanties that means I can launder and dry them every other day or so.
Advertisements:



The Give-n-Go range is made of wicking and quick drying fabrics made of mostly nylon and some spandex, making them really quite comfortable as well as easy to launder. They dry in a few hours hanging in your hotel room, are pretty stylish, and will last quite some time. As they are so easily laundered and dried, you can get away with two or three pairs on a trip, perfect if you're only packing a carry-on suitcase for your vacation.
The Ex Officio Give-n-Go is available from Amazon.com.
The prices range from $8 for a pair of women's briefs to $25 for men's boxer briefs. Sizes are extra-small to extra-large, and a variety of colors are available.
You should follow me on twitter here.