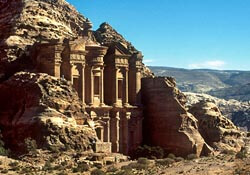 Instead of Dubai, save your hard-earned dollars and visit neighboring Jordan for a cheaper and more down-to-Earth vacation spot. As Dubair has become more like Las Vegas, with lots of glitz and higher prices, Jordan has remained a budget-friendly destination. Jordan has all the food, culture, and heritage of the region, while prices remain on par with those in Lebanon, Syria, and Egypt, but it's more politically stable.
What to do in Jordan
Advertisements:



Petra is one of the seven wonders of the world, but it's swarming with tourists in buses. Your best bet is to rent a car in Amman for the day, cost is about $50, drive the three hours, and explore the site alone - the tour groups move slowly and don't offer any more information than you'd get from a Lonely Planet guide. Even better, you can arrive before everyone else does and stay longer, too.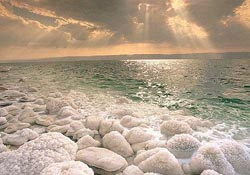 Jordan's other don't-miss is the Dead Sea, which you can reach by taking the 30-minute, $13 shuttle bus from the Marriott in Amman to the Jordan Valley Marriott Resort & Spa on the lakeshore. A $46 day pass lets you use the beach, pools, umbrellas, and chairs. Cover yourself in the famous mud and float the day away in the world's saltiest body of water.
Eat and drink
Although Jordan is a Muslim country, most restaurants, especially those that cater to tourists, serve beer and wine. Hotels and nightclubs have full bars. A beer will set you back about $4.
Street food is everywhere in Amman, and nowhere is it better than at Reem Cafeteria (phone +962 5356 0400). Open 24 hours a day, it's renowned for its charred roasted-lamb sandwiches served with fresh tomato, onion, and beautiful spices. The line can run ten deep at 3 a.m., but it's worth the wait when you realize the sandwiches cost less than 50 cents each.
Where to stay
The only boutique hotel in Jordan is the AlQasr Metropol, which is in Amman's trendy Shmeisani district. The rooms are big and modern, the location is terrific, and the $140 per night tariff can't be beat. Besides, no matter how many stars Dubai's Burj Al Arab claims to have, all that garish purple and gold doesn't justify the $1,000-a-night rate. You can also find any number of cheap rooms if you're willing to improvise once in Amman. And if not that, try Hotelscombined for hotels in Jordan.
Getting there
Tickets can be pricey (up to $2,000 on American Airlines), but hunt out cheaper flights on Middle Eastern airlines like EgyptAir and Royal Jordanian, where you can find fares for as little as $900.
You should follow me on twitter here.