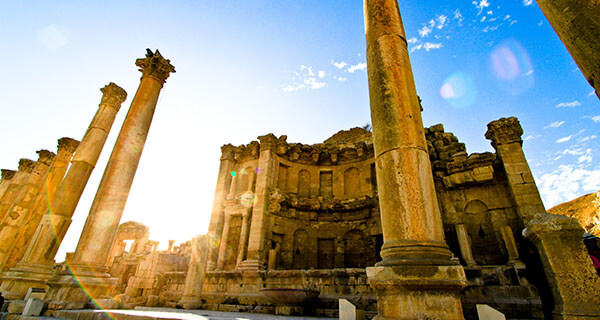 Although most intrepid travelers to Jordan visit the impressive ruins at Petra, fewer are aware of the equally awe-inspiring archeological feast for the eyes that can be found in the city of Jerash, 30 miles north of the capital city of Amman. Jerash, or Gerasa, as it was called in Roman times, has seen nearly constant excavation and restoration work since the 1920s, with the result being that you can see an amazing range of Roman urban architecture, built from roughly the second half of the first century A.D. until an earthquake destroyed much of the town in 749.
Today, the ancient city lies exposed next to modern-day Jerash, and a thriving tourism industry ensures that the ruins are well maintained and easy to access. Wear comfortable clothes and good walking shoes for your visit – you'll want to wander the area around Hadrian's Arch, the central still standing Cathedral (pictured above), the massive Hippodrome, the grand Oval Plaza, and an elegantly colonnaded street, the Cardo Maximus (pictured below), where you can still see the ruts worn into the pavement by ancient chariots. Those are only a few of the sites open to the public – plan to spend at least a day here to see it all.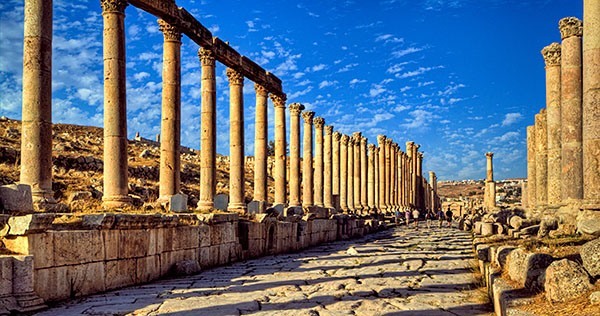 Advertisements:



One event you won't want to miss is the Jerash Heritage Company's performance of the Roman Army and Chariot Experience (RACE), a re-enactment featuring Roman legionares in full armor, gladiators, and a thrilling Roman chariot race, held twice daily in the Hippodrome. If you are able to travel in the summer, time your visit to coincide with the world-famous Jerash Festival, featuring Arabic music, folklore, poetry, theatre, art, and crafts – it's as heady a dose of Jordanian culture as you will find anywhere in the country.
You'll find a visitor's center near the South Gate to the ancient city, where you can pick up maps, guidebooks, and other information. The ruins are open from 8:00 a.m. to 4:00 p.m. in winter, and until 7:00 p.m. in summer.
Photos by To Uncertainty And Beyond on flickr
You should follow me on twitter here.