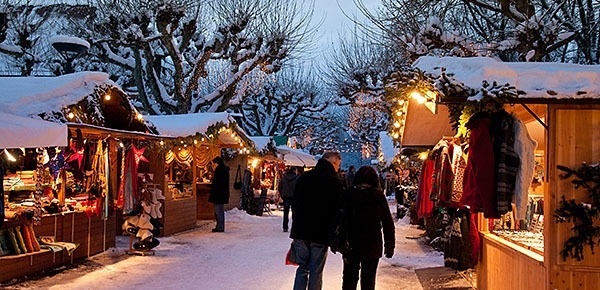 If you're looking for something to really spice up this Christmas, that will see you doing something a bit different from the norm – why not take a break to one of Germany's amazing Christmas markets?
From a vast array of local craft stalls for you to browse around to the smell of cinnamon and roasted chestnuts everywhere you go – if these Christmas markets don't get you in the festive mood, we don't know what will!
Christmas, although it is one of the best times of year it can also be one of the most stressful. What better time to take a short holiday? This way you'll be able to get some time for yourself to relax in a new exciting place and also you'll be able to do your Christmas shopping in peace, without anyone finding out what their presents are.
Top things to do whilst touring Germany's Christmas markets
Shopping – of course!
As stated above, you won't run into the usual problem of getting someone a present they've already got when you're shopping in the German Christmas Markets. You'll have a whole wealth of beautiful handmade gifts to choose from for your loved ones, including wooden toys, ornaments, picture frames, wines, chesses, hand knitted clothes and candles too.
Not only will you be supporting local business and craftsmanship but you'll be buying people original gifts. Unlike everyone else who will be getting their presents from Debenhams or Macy's! Only joking.
Sightseeing
As well as shopping, you also have the added bonus of being in one of the best and most exciting countries in Europe – Germany.
Advertisements:



If you fly to Berlin or Nuremberg where most of the biggest Christmas fairs are you'll be able to meandering around and marvel at the fine examples of German architecture. In Berlin there is a whole plethora of military history in the way f its museums and national monuments. A simple must for any World War One and Two buffs out there.

Ice skating and festive fun fairs
If you can't manage to find a babysitter for the kids for a weekend, don't worry – bring them along!
Many of the Christmas markets in Germany have huge ice skating rinks for them to try their skills on for as long as they please. Together with huge fun fairs that have lots of rides and stalls, they'll be entertained for hours on end.
Live music
As stated previously, going to the Christmas markets isn't just all about shopping. There are so many other things here to get very merry and in the festive spirit – and we're not just talking about the spicy mulled wine!
Whilst here take the time to see some of the wonderful live music that is all around Germany and often with authentic traditional German bands. There's nothing quite a full brass band and a league of carol singers, to get you in the mood for Christmas!
This Christmas, break from the old routine and do something really original that will truly get you in the mood for the festive period.
Photos by LenDog64 (1) and Andreas. (2) on flickr
You should follow me on twitter here.