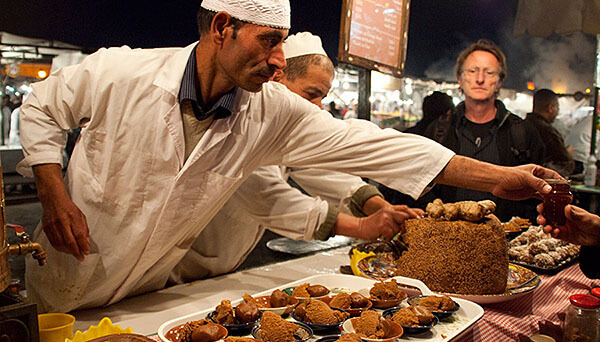 Refreshing mint tea, spicy tagines and hearty couscous might be the flavours that come to mind when you think of Morocco and Marrakech, however if you look past the dishes marketed to tourists, then there is a wealth of undiscovered cuisine in this fantastic city. There's so much more to taste in Marrakech, and if you're thinking about taking a holiday here, then getting to grips with the local food should be a priority.
Advertisements:



There's no other city in the world that offers the diverse variety of foods like Marrakech, and the experience of eating in the city not only reflects the traditional recipes used, but the beautiful surrounding historical architecture as well. There are many things a restaurant can provide, but there is no match for the excitement, culture and traditional experiences of Marrakech. Let's take a look at some of the best local foods on offer.
Harira soup
Harira soup is one of the most popular dishes in Marrakech, with the locals as well as the tourists. The dish is also very simple to make, and consists of creamy soup made from pasta, lentils and chickpeas. You can also add spices to the soup depending on flavoursome you want it to be. Before this dish is served, it is combined with coriander, lemon, saffron, ginger and lemon. When served, diners are also provided with local fresh bread and figs, and this soup remains the stable dish during the Ramada festival.
Pastilla – A sweet pastry delight
This dish offers a surprising element that many tourists are unaware about, and again it is one of the most popular meals in Marrakech. Stuffed with either chicken or pigeon, this dish consists of layers of meat laced with icing sugar! Anywhere else on the planet, meat and sweet sugar would seem out of place, but never in Marrakech! Pastilla is a great choice of desert after a meal, and can be prepared for takeout as well as a sit down sweetener.
M'semmen – Moroccan pancakes!
If you've ever tried a roti, or a traditional pancake, then you're going to love M'semmen! There are hundreds of market vendors in Marrakech that sell this delightful sweet day and night, so there's absolutely no excuse not to try one, and as they come with a selection of tasty toppings, M'semmen can be enjoyed by everyone.
Tempted? Go taste for yourself
Cheapflights offer the best travel deals to Marrakech, so it's best to book early in order to get the most out of your money. Furthermore, before you leave on your holiday, make sure you do a little research into the best markets, stalls and shops to buy food.
Photo by Evgeni Zotov on flickr
You should follow me on twitter here.