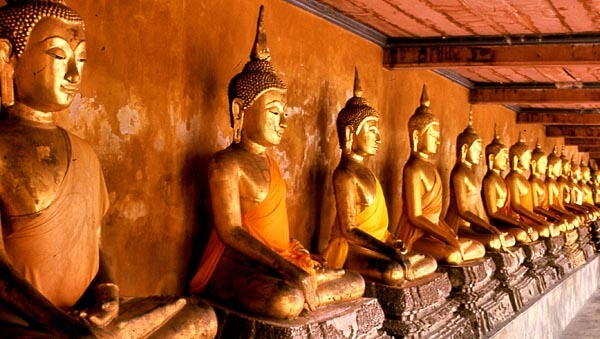 Few countries in the world are as rich in culture and history as the nation of Thailand. A unique blend of Asian tradition and innovative technology make Thailand one of the most fascinating places that one can visit, and tourists are sure to be enthralled by the country's bustling dynamic. Travelers should be sure to visit the following Thailand destinations in order to experience this society's culture at its finest.
Thailand's Floating Markets
Advertisements: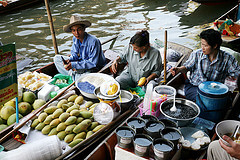 Thailand's floating markets have recently become some of the country's most famous tourist attractions. Located throughout Thailand's various canals, the markets consist of hundreds of vendors who carry their wares on long boats that are similar in appearance to kayaks. Primarily fresh fruits and vegetables are sold, although nuts, flowers, and souvenirs can also be purchased. Visitors are consistently astounded by the floating markets' calamitous yet friendly atmosphere, and tourists will surely appreciate the opportunity to experience traditional Thai bartering practices.
Chiang Mai
Visitors who wish to get in touch with Thailand's spiritual history will surely want to visit the city of Chiang Mai. Unlike many other areas of Thailand, Chiang Mai features a peaceful and rather ethereal appeal that is accentuated by its numerous temples and peaceful hiking trails. Travelers will adore the city's intricately constructed religious centers and will enjoy learning about Thailand's spiritual connections.
The River Kwai
The River Kwai enables visitors to experience both Thailand's natural beauty and its fascinating history. The Bridge on the River Kwai is a famous landmark which was constructed by the Japanese during World War II as they invaded Thailand, and history enthusiasts will appreciate this relic of Thailand's past. However, the river itself offers many opportunities to simply appreciate the country's idyllic nature. Visitors can take tours of the river or even spend the night on the famous
River Kwai Raft Floatel Sai Yok
.
Hin Daeng
Located in the Andaman Sea, Hin Daeng is Thailand's most famous diving spot. The location is full to the brim with marine life of every color and size; from tropical fish to a rainbow of sea anemone, visitors will surely be stunned by the unparalleled sights that are hidden just beneath Hin Daeng's shores.
Bangkok
A trip to Thailand simply would not be complete without a visit to the bustling city of Bangkok. Bangkok culture is incredibly fast-paced, and travelers will never encounter a dull moment during their visit to this city. In addition to Bangkok's towering skyscrapers and hurried city life, tourists can also experience relics of ancient Thai culture such as the gorgeous Grand Palace and the Wat Arun Buddhist temple.
Thailand travel resources
If you're headed to Thailand, you should book a hotel at least for your first night arriving. Try Cheapflights for flights to Thailand. Also, search Expedia for local hotels. It compares many hotel rates to help you find great deals.
Photo by telmo32 on flickr
You should follow me on twitter here.