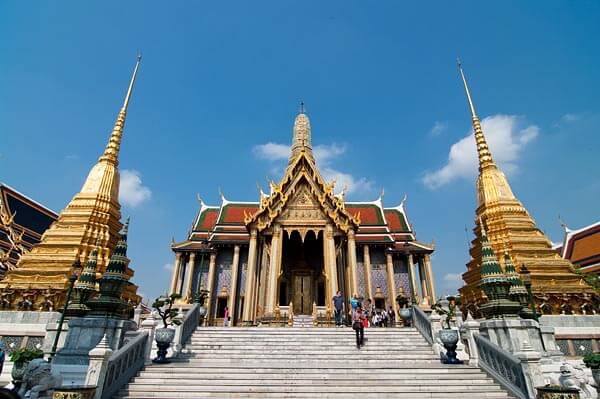 The Grand Palace of Bangkok, Thailand, Wat Phra Si Rattanasasadaram, has been the Royal Palace of the King and the royal court for nearly 250 years since King Rama I ordered the construction. The spectacular complex of the Ayutthaya style dazzles with gleaming golden stupas and chedis, and ornate intricate scenes from the Ramayana.
Forty foot tall fierce Yaks, winged Garuda guardian statues, stand watch, all in dazzling gold, mirrors, ornaments, and colors of red, green, black blue or white. The path through the lavish complex is decorated with mosaics and small statues of seven headed human-faced dragons, gold kinnon rooster men, rosettes, carved pieces of Ming dynasty pottery, and a spellbinding array of vivid colors.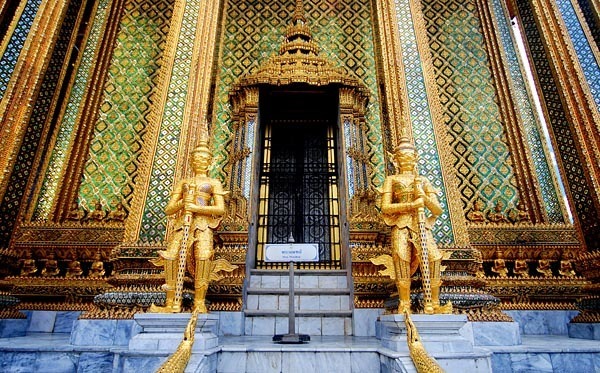 The King's Palace Chakri Mahaprasad is an eye-catching design of French and British architecture, with a glittering gold Thai roof. The Temple Wat Phra Kaew adorned with ornate towering columns, is the home of the national treasure of Thailand, the Emerald Buddha.
The sacred jade statue is nearly a foot and a half tall, clothed in gold, and is carved from a single piece of jade. Dress code is enforced, long pants and shirts are advised. Admission is usually 200 Baht, and is better to go early morning by boat on a guided tour than face the hustle and bustle of downtown.
Bangkok's Grand Palace address and hours
Grand Palace
Phra Borom Maha Ratchawang, Phra Nakhon
Bangkok 10200, Thailand
Open daily 08:30 - 15:30.
Advertisements:



Photos by mhiran1 (1) and Michael McDonough (2) on flickr
You should follow me on twitter here.