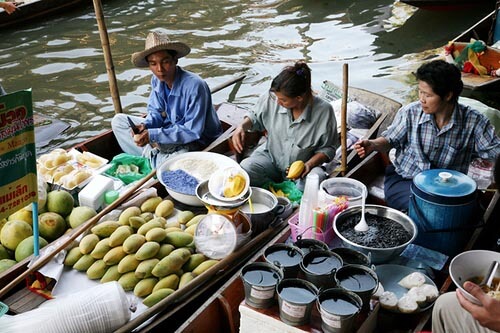 The Damnoen Saduak market featured in James Bond's Man with the Golden Gun. The market is an hour away from downtown Bangkok, about 100km to the South East. Early risers can take a swift khlong canal ride on a colorful shoe-shaped wooden craft. As you whisk through emerald waters, enjoy vistas of local life before you reach the heart of this floating market. Scenes such as small wooden boats rowed by Thai fishermen in traditional hats, beautiful hibiscus, and rice birds provide excellent photo opportunities.
Vendors usually float by with their wares, so you may wave and smile if interested. The language barrier is usually not a problem as the vendors hand you a basket with a calculator inside that displays the price in Thai Baht. Simply place your money inside and they will quickly give your item of choice. Brightly colored tropical flowers, fresh produce, and spicy noodles cooked on sizzling woks are common offerings. Samples of the local tropical fruit are not to be missed, such as the subtle flavor of the spiky fuschia rambutan with jelly like clear flesh, the refreshing taste of dragon-fruit, and the strange-smelling but delicious durian.
Bargains are to be found also in the surrounding indoor shops, with all manner of mirrored and colorful teakwood masks, bronze Buddhas, incense, leather goods, and silk depictions of the Ramayana. The prices are quite reasonable, and usually bulk bargains for handicrafts can be bartered. Delicious local drinks can be found in straw-topped stands overlooking the water. Young men with machetes whack the tops off of young green coconuts, and sell the hollowed out shells with coconut milk or liquor. Thai beer such as Singha or Phuket is available in glass bottles along with bottled water, sodas, or Coke made from real cane sugar. The exit of the market is studded with stands of T-shirts, bric a brac, camphor balm, and souvenir photographers. The market closes in the early afternoon, so arrange a tour through a travel package or reputable company in Bangkok, preferably avoiding the May-September as it is monsoon season.
Damnoen Saduak Market location and hours
Damnoen Saduak Market
Ratchaburi
Rajburi Province
Thailand
By Car: From Bangkok you can take Highway No. 4 (Phetchakasem Rd.) and turn left at Km. 80 for another 25 kms. along Bangpae-Damnoen Saduak Rd.
By Bus: There are public buses both air and non air-conditioned leaving from the Southern Bus Terminal. Pinklao-Nakhonchaisi Rd. for Damnoen Saduak every 40 minutes from 06.00 hrs. onwards.
Advertisements:



Photo by Maria Hsu on flickr
The market is open from 7.30 am to 12.30 pm
You should follow me on twitter here.