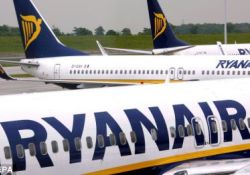 Ryanair is grounding all domestic flights in Italy due to security concerns from 23 January 2010. This is a temporary measure since the Italian authorities are demanding that they accept non-secure forms of ID from passengers.
Advertisements:



These ID's can include fishing licenses or an employment ID, certainly falling very short of the standards demanded in other EU countries where only passports or state issued ID cards are acceptable.
This is also the standard that Ryanair requires.
Flights to and from the following airports in Italy will be affected:
Alghero
Bari
Bologna
Brindisi
Cagliari
Milan Bergamo
Pescara
Pisa
Rome Ciampino
Trapani
This seems to be valid for Italian domestic flights only, and Ryanair is cancelling flights as they've been put on notice that gate agents could face fines or even imprisonment if they refuse. These new requirements for Italy are issued by the Italian Aviation Authority, ENAC.
According to Ryanair, its handling agents faced imprisonment "if they refuse travel to passengers flying with unapproved forms of ID". Such unapproved means of identification include Italian fishing licences and employment IDs, which "do not meet international security standards."
Ryanair will begin flying inside of Italy again once ENAC cancels this massive relaxation of ID requirements.
This begs the question: If a domestic passenger is to transfer to an international flight, are the ID requirements still as lax? And if so, what does this mean for aviation security in general?
You should follow me on twitter here.