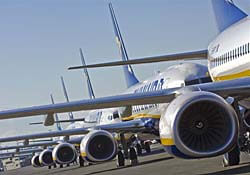 As Visa is phasing out the Visa Electron cards, Ryanair will stop accepting them from January 2010. This means that the previous only way to pay for Ryanair flights without incurring a credit card fee will disappear.
Luckily, Ryanair is replacing the Visa Electron payment option with a MasterCard Prepaid selection, which will be free of charge. The MasterCard Prepaid option starts on December 1, 2009, so for the month of December there are 2 fee-free payment options at the airline.
The Visa Electron was always a bit of an anomaly, as many (most?) banks didn't offer the card and European customers often couldn't get one at all in their country. The MasterCard Prepaid options are available globally, so this actually is an improvement for Ryanair passengers, the first real one in quite some time.
As the demand for Visa Electron has waned in the past years, Visa is completely phasing out the card as the features that used to be unique to it is now available on all debit cards from Visa and others. Abbey and Travelex won't offer new Visa Electron cards from 14 December 2009, and January 2010 respectively.
Advertisements:



Even more of a reason to use a prepaid MasterCard when traveling, besides the normal safety features of a prepaid credit card. Since if you lose a prepaid card, the highest amount that could potentially be lost is what is loaded onto the card, it's a better choice for traveling.
You should follow me on twitter here.