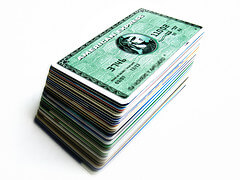 Chip and PIN, a security feature used on all European credit cards, as well as Mexico, Brazil, and Japan, continue to cause trouble for American travelers. No, not the chip and pin itself, but the lack of this technology on U.S. credit cards.
As credit cards have been rolled out as the default payment method anywhere from grocery stores to automated kiosks, and carrying a credit card is safer than a roll of cash, travelers have become used to relying on their cards rather than the local bureau de change. But this convenience is limited for American travelers, as many of those automatic transactions now require the card to be Chip and PIN enabled.
This makes buying train tickets, filling up on gas, paying for parking, or even buying a snack a more involved process than necessary. There are even some ATMs that require Chip and PIN now, which must be a very negative experience when arriving late in a country and without any local currency.
Advertisements:



Besides automated vending, the mag stripe only credit cards that American travelers carry are sometimes refused in convenience stores or even restaurants. Most times, this is down to the vendor's ignorance that using the magnetic stripe in the terminal will work, or some mis-conceptions about fraud liability. A frequent reason cited in the U.K. is that "the vendor will be liable for any fraudulent transactions" carried out without a Chip and PIN enabled card.
In these instances, ask the person to swipe the card anyway, as it will work 9 times out of 10. If you're straight-out refused, feel perfectly comfortable in taking your business elsewhere.
There are 2 options to get around the problem:
The first is to carry cash around, but because of the security risks that can be involved, I'd not recommend having much in bills and coins.
Second is an upcoming product from Travelex, who offer a pre-loaded Chip and PIN card for American travelers, which can hold up to about $9,000 in local currency such as British Pounds or Euros. Unfortunately, this product isn't even launched yet...
So cash it is, for now. And send a letter to your bank complaining about having trouble using their credit card when abroad.
Photo credit: Andres Rueda
You should follow me on twitter here.