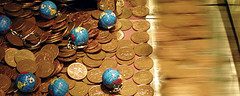 Your vacation time is when you'd prefer to forget about bills, budgets, and anything else money related and just get on with the task of chilling out. But vacations can land you with one massive money hangover unless you watch out. These are 5 of the sneakiest tricks to fool you out of your hard earned cash while traveling.
Airport parking
Advertisements:



Parking at the airport can cost you a pretty bundle. Especially if you're lazy and want to have just a short walk to the terminal. It's not uncommon for the parking charges to be higher than the airfare itself!
The trick is to book your parking spot early. Check online if your airport has an online reservation service for parking, or if there are private parking lots available nearby. It's often cheaper.
And if your city has anything resembling public transportation, don't hesitate to take the bus or train to the airport. Much cheaper and eco-friendly as well.
Airport food
Always expensive, always sub par. Eating at the airport will take a big chunk out of your wallet unnecessarily. Pack a sandwich from the supermarket, or, heck, a take away, and save some money while waiting for your flight.
Foreign exchange
Money makes less money if you exchange it to foreign currency at the airport kiosk or your destination hotel front desk. The exchange rate at those places is likely horrible. Your best bet is to use your ATM card in a machine at your destination instead. Failing that, exchange some money before your trip from one of the specialist companies.
Dynamic currency conversion
Sounds great when you hear it: "Would you prefer paying in US dollars instead of [insert local currency]?" Just don't. The rate will be much higher as the merchant can set its own exchange rate, naturally favoring the retailer rather than you. This is called dynamic currency conversion, and it's something which will be bad for your vacation funds. This practice is very common in southern Europe, especially in Spain.
Cell phone roaming charges
Yes, your phone will work just fine in Croatia. However, your cell phone bill will look decidedly unfriendly when you return home. If you're staying at your destination for longer than a few days, and need a phone, it's often much cheaper to buy a prepaid cell phone at your destination rather than use your cell phone from home. Just go ahead and email the new local phone number to your friends at home, and give them a link to Skype so that they can call you cheaply. Also, if you bring your laptop, use Skype to call friends with Skype installed for free, anywhere you get an internet connection.
You should follow me on twitter here.