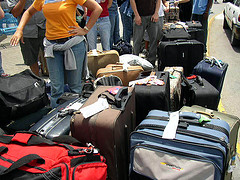 David Dimbleby, the host of BBC Question Time, was one of many hundreds of travelers stuck at Stansted the other day because Ryanair only opened 11 check in desks for 255 flights. This weekend was one of the busiest travel days of the year in the UK, and 500 passengers had the grim choice between a cancelled holiday and booking a new flight because of Ryanair's new check in policy.
From October, Ryanair is making every traveler check in online, but even now the pressure is on and vacationers at Stansted were watching their flights take off while waiting to check in or leave their bags at the drop off points.
Mr. Dimbleby was on his way to Toulon, in the South of France when he got stuck at Stansted. 2 hours after arriving at the airport, and 95 minutes after the check in desk opened, he and his family still had their luggage with them when the plane took off without them.
Advertisements:



He told The Times: "It's a nightmare. Ryanair have abdicated responsibility. They have not spoken to any of these people, there have not been any public announcements and they have not said when the flights are called.
"They sell tickets for flights and don't operate a check-in but are quite happy to take everyone's money. The police are here with machineguns, supposed to be protecting us from terrorists, but they end up protecting Ryanair ticket sellers. It's absurd."
Swissport is the company contracted to handle check in for Ryanair, but with the airline not paying for enough desks, there wasn't much they could do on the day.
You should follow me on twitter here.