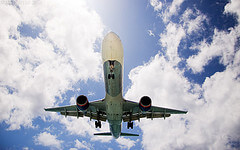 From today, most air travelers will be asked their birth dates and genders when making airline reservations. With the new and quite public expansion of the Secure Flight program, the Transport Security Administration (TSA) will be asking airlines to provide passengers' identity information to the federal government.
The change keeps the agency on track to assume responsibility for ID checks on all domestic flights by early next year, according to the TSA. Currently, the airlines check passenger identifications against lists of suspected terrorists.
However, the federal government has wanted to change this since a good while back so that it's a government function instead. This should make checking against the 'terror watch list' more accurate, as well as cut down on the false matches that plague some air travelers.
Advertisements:



In May, the federal government began the first public phase of Secure Flight when four small airlines began asking passengers to provide their names, as the names appeared on the government-issued IDs they would be traveling with, when making reservations. Since then, additional airlines have begun asking for full names although the number of airlines doing this remains secret. From today, all airlines will be doing this..
The new change requires travelers to provide 3 pieces of information when making reservations:
Full name
Birth date
Gender
The airline will transmit that information to the TSA, which will compare it to a "no-fly" list of people prohibited from flying or a list of "selectees" who can fly after they pass additional physical screening.If passengers are not asked for this addition information, they should not be concerned, as it will not affect their travel, the agency said.
The TSA will be screening 100 percent of passengers on all domestic commercial flights by early 2010 and 100 percent of passengers on all international commercial flights by the end of 2010.
You should follow me on twitter here.