Stuck outside, far from everything, and your iPod battery dies. Yep, we've all been there. But if you pack a travel-sized solar charger, you can boost your batteries as long as the sun is shining. Here are a few of the best:
Solaris i6 Foldable iPod Solar Charger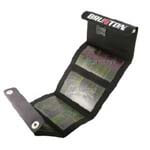 This charger from Brunton comes with a twist, it'll fold up and fit in your pocket. With an output of 6 watts, it'll power most small electronic devices and you'll also get a cigarette lighter adapter to plug it into your car's battery.
It'll plug straight into your iPod with its power cable. The vehicle outlet cable plugs into your car's 12-volt cigarette lighter for listening to your iPod behind the wheel, while the multi-linking cable also lets you charge digital cameras, MP3 players, PDAs, cell phones, and more. You can increase the power output by linking compatible solar panels to the i6 panel.
It's quite small while folding out to a large 29 x 9 inches and a weight of only 7 oz. It comes with a little storage sack. It's the most expensive of the lot, with a price at Amazon.com of $118.99.
S
olar Charger SC002

from KHypermedia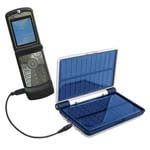 Much cheaper than the Brunton charger, and with a built-in battery to keep some extra juice available, the SC002 makes a good travel companien for a gadget head in the wilderness. The SC002 is capable of charging many brands of cell phones, GPS units, MP3 players, PDAs, digital camera, personal gaming devices and camcorders. It even has a built-in light so you can fumble around in the dark with it.
It has multi-wave length solar panels so the SC002 absorbs all light sources - not just the sun's - turning it into usable electricity.
The charger comes with connectors for a range of cell phones and a car adapter. Priced at just $40 from Amazon.com.
Solio Universal Hybrid Solar Charger (Black)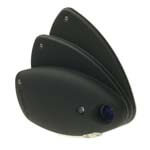 The Solio universal hybrid solar charger is powerful enough to charge all of your handheld electronic gadgets while on the road. The Solio works by absorbing power from either four hours in the wall socket or 8 to 10 hours of direct sunlight, and then storing the energy within its internal battery. With a full battery, you can use the Solio to charge a cell phone, iPod, MP3 player, PDA, game player, GPS, fish finder, or digital camera, making it a very versatile battery charger.
It has a quite clever design, with a fan-blade arrangement that creates a large solar area when in use. It's also very compact to stick in your backpack, measuring 2.5 by 1.3 by 4.7 inches. It weighs a modest 5.6 oz, or 156 grams.
Advertisements:



The black Solio charges your electronics at the same rate as a conventional charger, and stores enough juice to fully charge an average cell phone at least once or an iPod nano twice or more. The gadget can also charge electronics directly rather than relying on the built-in battery.
To make the Solio easier to use, the device comes with a series of interchangeable tip system connectors, including connectors for Nokia, Motorola, and Samsung cell phones, along with a mini-USB tip and an interchangeable tip system cable. As a traveler, I really appreciate the included global wall charger, with adapters for the U.S., U.K., Europe, and Australia/New Zealand.
The Solio is priced at $96 at Amazon.com. There's a white version that costs $86 at Amazon.com.
You should follow me on twitter here.