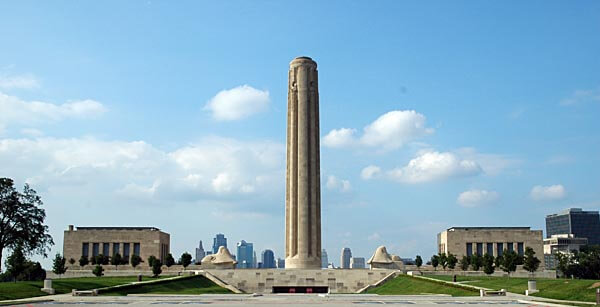 If you are visiting Kansas City, Missouri, the Liberty Memorial has to be on the top of your list to visit. Whether or not you had someone from your family who fought in World War I, it is a part of our American history that is well worth your time to learn more about. The museum was completed in November, 1926 and is dedicated to the fallen soldiers of World War I. World War I ended in November, 1918 and since so many from Kansas and Missouri had lost their lives, a decision was made to build a monument in their honor. In 2004, the United States Congress designated the Liberty Memorial as America's official museum dedicated to World War I.
The building is made from limestone and designed in the style from the Egyptian Revival. It is a very impressive building, with the foundation constructed from sawed granite, the walls of the first floor lobby using Kasota stone and the first floor corridor and grand stairway made from Italian travertine. Visitors enter the museum via a glass bridge that crosses over a field of red poppies. The poppies represent a thousand combatant deaths, a total of nine million.
Advertisements:



The museum gives its visitors the opportunity to learn all about World War I, including events leading up to the actual war. The museum is home to historical collections and exhibitions to help not only to educate its visitors, but to actually help you to re-live the experience of the war. It covers the entire war, from the first shot in 1914 to the attempts for peace in 1919.
Some of the collections you will see in the 55,000 plus items are: Common items carried by soldiers, a German navy uniform, a Princess Mary Christmas box, a steel helmet, and the service record book of 1st Lieutenant Maurice V. Griffin which is the limited edition of The Lost Battalion. Also included in the museum are authentic guns, a series of trenches that allows visitors ground level views soldiers actually experienced, animated battle maps, and Chronology Walls illustrating the daily, weekly, monthly, and yearly activities of the war through dated events and photographs. Visit the museum – it will help you to appreciate a little bit of history!
Liberty Memorial location and hours
Liberty Memorial
1 Memorial Drive
Kansas City, MO 64108
January 2 - May 29, 2011 - Open Tuesday - Sunday from 10 a.m. to 5 p.m.
May 30 - September 5, 2011 - Open Daily from 10 a.m. to 5 p.m.
September 6 - December 31, 2011 - Open Tuesday - Sunday from 10 a.m. to 5 p.m.
The Museum is closed Thanksgiving, Christmas Eve Day, Christmas Day and New Year's Day. 
Photo by Marshall Astor - Food Fetishist on flickr
You should follow me on twitter here.