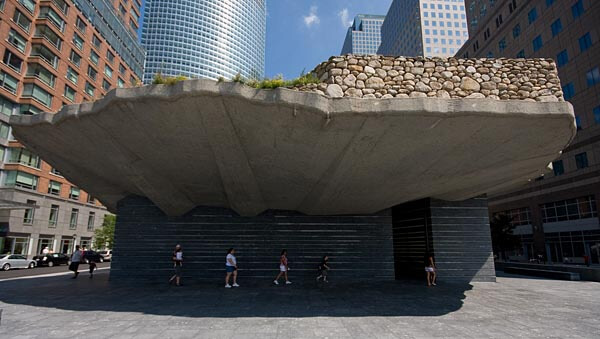 The Irish Hunger Memorial in New York City takes its name from the words 'The Great Hunger', which are 'An Gorta Mor' in the Irish language. It is located on a half-acre site on the corner of North End Avenue and Vesey Street in Battery Park City. Its location is between the Hudson River and the Embassy Suites Hotel.
Advertisements:



The Memorial contains stones from the 32 counties of Ireland and is elevated on a limestone plinth. It has bands of text separated by layers of Kilkenny limestone, which is more than three hundred million years old. The limestone contains fossils collected from the ancient Irish seabed. The text on the Irish Hunger Memorial combines the history of the Great Famine that occurred in Ireland between the years 1845 to 1852. This famine forced many people to emigrate to New York City where they lived in the south street Seaport and Castle Clinton. The outbreak was because of blight infestation of the Irish potato crop, which was the main staple food in Ireland.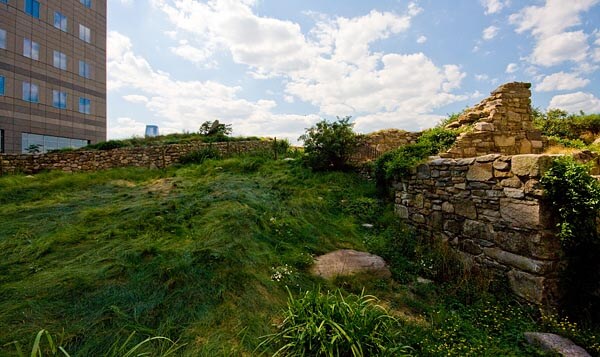 It also contains reports on world hunger casted as a shadow onto illuminated and frosted glass panels. The memorial appears as a sloping landscape that has a pathway that invites visitors to walk upward past the ruined fieldstone cottage and walls of stone towards a pilgrim's standing stone from the eastern approach.
At the memorial's western end and twenty-five feet above the pavement, there is a cantilevered overlook providing visitors with views of Ellis Island and the Statue of Liberty, which are emblems of America welcoming immigrant peoples to the country.
Irish Hunger Memorial location
Irish Hunger Memorial
290 Vesey Street
New York, NY 10285
Subway: E train to World Trade Center, or 1, 2, 3 to Chambers Street.
Photos by gsz on flickr
You should follow me on twitter here.