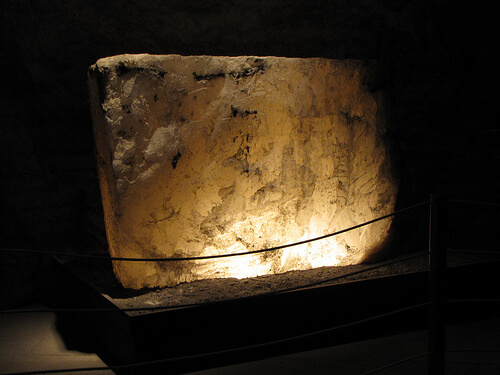 The Kansas Underground Salt Museum is located in the heart of Kansas in Hutchinson. Part museum and part working salt mine, it is an attraction that is so unique that it is the only one of its kind in the United States. In fact, there are only 15 active salt mines in the United States and none, except for the Kansas Underground Salt Museum, have museums open to the public.
The mine itself is located 650 feet below the ground and is accessible via a 90 second elevator ride. Once you are down in the mine, you're in a 275 million year old block of salt. But never fear, the cavern is lighted for your comfort and safety. The mine itself is roughly 67 miles long and the museum has developed about 100,000 square feet for the public to enjoy. The Kansas Sampler Foundation named the Kansas Underground Salt Museum one of the Eight Wonders of Kansas in 2007.
The tram-ridden tour through the underground mine takes about 40 minutes. There are many highlights you will see on the tour, including empty dynamite cases and a large sinkhole that was a result of some water once getting into the mine (water melts salt and therefore, in large quantities, can actually melt the mine).
There is also a Road Warrior type of car that is similar to the types of cars miners drive in the mines. Interestingly enough, once an item, like the car, is in the mine for any length of time it can never be brought back to the surface because it would corrode instantly. Towards the end of the mine's tour everyone has the opportunity to sort through rocks mined from the active part of the mine and to take their selected stone home as a souvenir. You can also see the world's oldest living organism, which is about 250 million years old and found trapped inside a crystal of salt, at the museum.
Underground Salt Museum address and hours
Kansas Underground Salt Museum
3504 East Avenue G at Airport Road
Hutchinson
Kansas 67501
 
Phone: +1 (0) 620.662.1425
Advertisements:



Tuesday-Friday 9 am - 5 pm
Saturday 9 am - 6 pm
Sunday 1 pm - 6 pm
Closed Mondays
Photo by Ron Schott on flickr
You should follow me on twitter here.