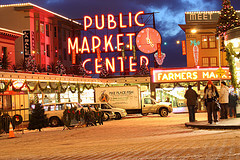 Pike Place Market is an open-air shopping haven located right on the waterfront near the downtown area in Seattle. It is one of the oldest continually operated public farmers' markets in United States and opened the first time on 17 August 1907. The market is named after Central Street, Pike Place runs northwest from Pike Street to Virgina Street and the market is known as one of Seattle's most popular tourist destination.
Advertisements:



The market is spread over nine acres and its 100 years of operation encompass thousands of interesting stories, hence Pike Place Market is called "The Soul of Seattle." The market features a variety of unique shops, antique dealers, comic book sellers, small restaurants in the lower level, while the upper level features fish-mongers, fresh produce stands, and crafts stalls.
Pike Place Market is internationally recognized as Americas premier farmers' market which is home to 200 year-round commercial businesses, 190 crafts people, 120 farmers who rent table space by day, 240 street performers and musicians.
Market is open seven days a week, closing only on Thanksgiving, Christmas and New Year's Day. Pike Place Market is at it best in the morning, the market is fresh and full of energy while vendors are setting up with their buisness. The worlds first starbucks coffee is located next to the market.
Address
85 Pike St
Seattle, Washington 98101
Photo by feekner on flickr
You should follow me on twitter here.