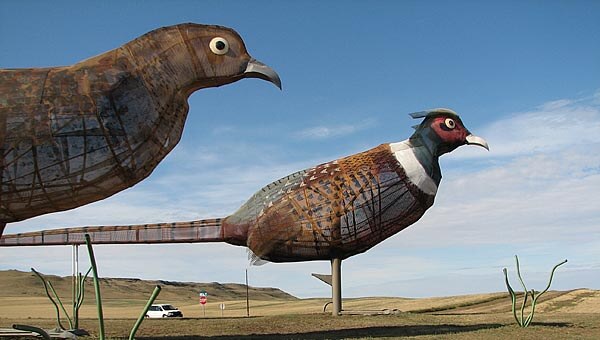 North Dakota's Enchanted Highway is so much more than an example of Americana art and oddities. Sculptor Gary Greff began creating his metal sculptures in the early 1990s in an attempt to drive traffic and commerce into his small hometown of Regent, North Dakota. Seven of Greff's labors of love now reside in the thirty-two mile stretch of road between Gladstone and Regent, North Dakota.
Advertisements:



One of the Enchanted Highway sculptures, "Geese In Flight", was recognized as the world's largest scrap metal sculpture by the Guinness Book of World Records. Greff built "Geese In Flight" from discarded oil well tanks and pipes; it stands an astounding 110 feet tall and weighs nearly 80 tons! Other sculptures include a 60-foot high grasshopper, a 51-foot tall Teddy Roosevelt tribute, a recreation of a North Dakota lake complete with a school of 30-feet high jumping fish, and a 75-foot tall leaping deer. Although the installations are technically on private farmland, Greff has signed leasing deals with land owners along the highway in order to display his work. Semi-paved roads lead off the highway up to each installation, in order to allow safe photography of the sculptures.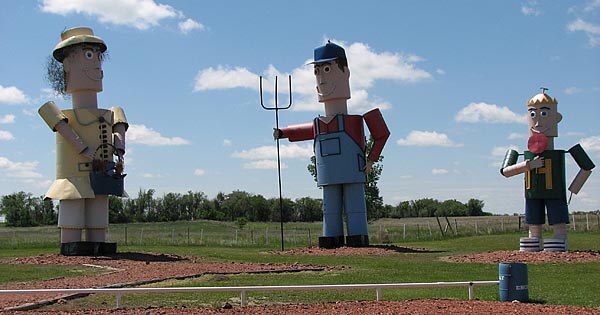 There is no charge to tour the Enchanted Highway, although Greff does accept donations to subsidize future art installations. There is a studio open to the public where tourists can watch Greer hard at work, as well as a gift shop for souvenirs. Picnic tables are available at some of the installations for lunching tourists. Greer has plans to open up additional Enchanted Highway themed businesses, including a dinner theater, a café, and a RV park.
Photos by canno1979 (1) and waski_the_squirrel (2) on flickr
You should follow me on twitter here.