Introduction to Seattle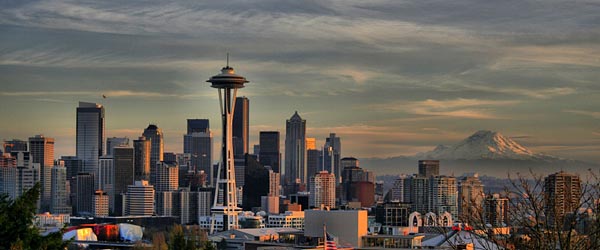 Seattle, in the state of Washington, is the biggest city in the Pacific Northwest. It is a city of contrasts; partially edged by a forest of fresh green trees, it boasts a multitude of modern buildings and architecture that includes the Space Needle. There are two lakes and the waters of Elliot Bay, which makes it a very special and picturesque place to visit. If you enjoy outdoor activities then certainly you will find plenty to do. Seattle is also known for its excellent seafood, so if you like sampling local specialities when you are away, this city is a good place for you.
The Space Needle is an essential place to go whilst you are staying in Seattle. From here you can see the most spectacular and amazing views of the city, sights you will remember long after your holiday is over. Its restaurant is over 500 feet above ground, and here you can dwell for some time, savouring the food and the vision of this wonderful city which spreads out below.
As far as nightlife is concerned, Seattle has a diverse range of this, so you are sure to find something to suit you. Younger visitors will enjoy the clubs and bars in Pioneer Square, whereas older people may prefer to go to the famous opera houses and classical music that is played at the Seattle Center. There are also some good cocktail bars that are well worth a visit, whatever your age and interests.
The shops in Seattle offer excellent opportunities to buy outdoor clothing, which will be suitable for visiting the beautiful countryside around this city. Those who are more interested in culture than taking outdoor exercise will find some excellent American artworks at galleries near Pioneer Square; these are well worth a visit, even if you do not intend to buy. For more general shopping requirements there are some excellent department stores such as Macy's and Nordstrom, which are well known for offering a good range of items. Allow plenty of time to visit these as you will not want to rush away.
Good restaurants are plentiful in this city. A particularly enjoyable place to eat dinner is at the Seattle Waterfront. Relax here after you have been on a trip to the beautiful Puget Sound Islands, a trip which is a must whilst you are staying in this city. Another good place to eat is Pike Place Market which is famous for offering a diverse and interesting range of dishes. Do not leave the city without eating there.
Photo by papalars on flickr