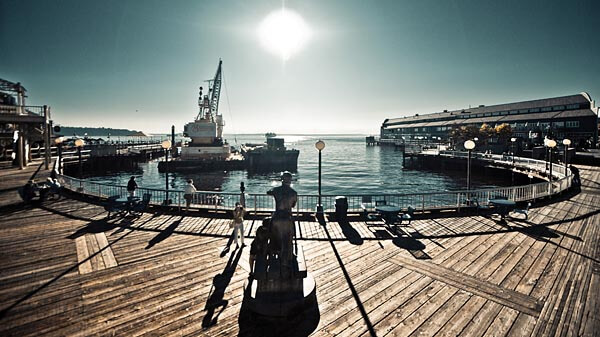 Seattle's Waterfront stretches just past historic Pioneer Square to the Shilshole Bay in Ballard. The bustling Port of Seattle features a ferry system as well as several lines that offer deluxe cruises to Alaska. Jaunt on the Victoria Clipper for a weekend trip to Canada.
Enjoy a rare chance to photograph killer whale pods, sample high tea at the Empress Hotel in Victoria, saunter through the vivid floral wonderland of Butchart Gardens, or view quaint Friday Harbor in the San Juan Islands. If you have less time, Argosy Cruises offers several relaxing day cruises of Elliot Bay. The locks tour combines Elliot Bay with Lake Washington and the State Locks, where sea lions, salmon, and other aquatic life can be viewed.
Advertisements:



Experience the rich history of the Pacific Northwest on Argosy's cruise to Tillicum Village on Blake Island. Feast on smoked salmon while feathered Salish tribes perform a fascinating cultural show. If you are feeling adventurous, hop to Pier 54 for a sunset cruise on a sailing yacht. The Waterfront Grill at Pier 70 or Anthony's at Pier 66 is an elegant treat. Savor local wines and sumptuous seafood, while watching the ships sail.
For a quick bite, try fish and chips at Ivar's Acres of Clams and catch a glimpse of friendly seagulls. Seattle Aquarium features brightly colored anemones, jellyfish, and a gigantic octopus, and offers a chance to view wild aquatic life in the inverted Sea-Dome. Families can also enjoy the retro video games at the Seattle Waterfront arcade.
Pier 54 boasts the Ye Olde Curiosity Shop and Museum, home to unusual souvenirs, curios and oddities. The Yukon era trading post is home to mummies, totem poles, and a talking fortune-telling machine. Cycle through the many bike trails and stroll through modern Seattle Olympic Park amongst monolithic sculptures, or through Waterfront park for panoramic for breathtaking views of the Bay.
Pike Place market bustles with activity, and boasts of fresh fish, local produce, and unique shopping opportunities. For those wanting an overnight stay, the Edgewater hotel provides luxury accommodations in the Seattle style, with fireplaces, knotted pine furniture, and an incredible view. Don't forget to return in the summer to the Seattle Waterfront at for free evening concerts series at Pier 57 for an enjoyable evening.
Photo by Nicola since 1972 on flickr
You should follow me on twitter here.