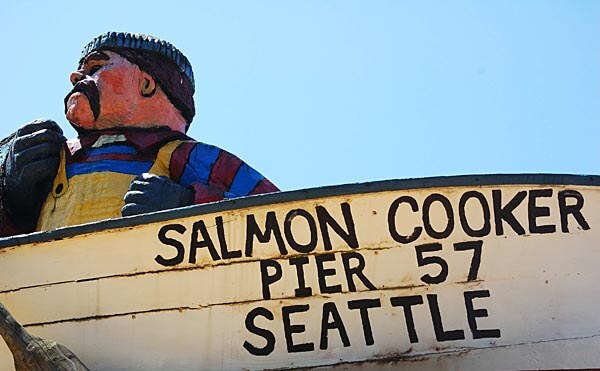 As its name implies, Pier 57 is one of many piers off the historic waterfront in Seattle, Washington. But this pier is lined with shopping, dining, entertainment and most of all, plenty of opportunities to learn about Seattle's rich history. The pier dates back to 1902, when it was built as part of the harbor for shipping and docking ships. From there is played a key role in Seattle's trade industry, serving as a transit point for gold and coal. In the 1970's the whole waterfront was turned into a park that is now a lively, bustling spot for tourists and locals alike.
The key attraction on Pier 57 is food. If you like seafood, this is your Mecca. You can dine on the fresh catch of the day right out of the harbor, or treat yourself to world class crab, scallops and lobster. Shopping opportunities abound as well. Discover your own Pirate's plunder in the nautical themed souvenir shop, or try your luck in the classic Seattle waterfront arcade. Pier 57 is everything you want in the quintessential family trip – something good to eat, something interesting to look at, and something fun to do. And of course, lots of picture-perfect photo ops.
Pier 57 address
Pier 57
1301 Alaskan Way
Seattle, WA 98101
Advertisements:



Photo by mzarzar on flickr
You should follow me on twitter here.