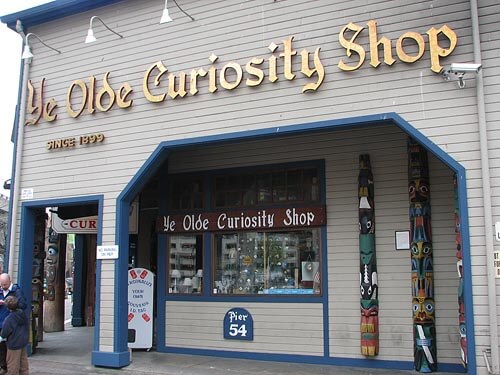 The waterfront is a wonderful place to visit on your next trip to Seattle. Ye Olde Curiosity Shop is located there on Pier 54. The shop itself was founded in 1899 and has always stayed near the waterfront even though it moved several time. It is family owned now by the fourth generation.
Today it is best known to be a souvenir shop but for a time it was a supplier of the Northwest art to various museums
Years ago in 1933 it was named as one of the "Seven Wonders of Seattle". The store was started in 1899 as a museum and curio shop which was named Olde Curiosity Shop and Indian Curio. In 1988 the shop was moved to its present location on Pier 54, at the Seattle Waterfront, and the "Indian curio" was dropped from its name. When the move was made over a million objects were moved with the shop. Today Indian totem poles flank the entrance way to the shop.
The shop still has museum pieces to see but now they are not for sale as they were in the early days of the shop. You can see Russian Samovar, totem poles. East Asian weapons, fir needle baskets and a walrus oosik among other things. There are also two mummified human bodies on display which have been given the names of Sylvester and Sylvia. Meeting Sylvester and Sylvia something you don't do every day, for sure.
The store also has coin operated attractions to entertain you and your children. Visiting the Olde Curiosity shop will make the day interesting and fun along with helping you do your souvenir shopping for friends and family at home.
Ye Olde Curiosity Shop address and hours
Advertisements:



Ye Olde Curiosity Shop
1001 Alaskan Way (Pier 54)
Seattle, WA 98104
Open 7 days a week:

(Summer hours)
M-Su 9am to 9:30pm

(Winter)
Su-Th:  10am to 6pm, Fr-Sa: 9am to 9pm
Photo by jackskellington101 on flickr
You should follow me on twitter here.