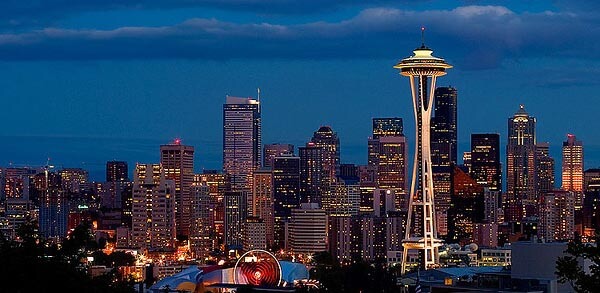 In the center of the amazing city of Seattle is the Seattle Center that consists of the Pacific Science Center and IMAX Theater and the Experience Music Project at the base of the 1962 World's Fair landmark, the Space Needle. The Seattle Center is a center of fairs, free music, food stands and people who enjoying blending cultures. The Experience Music Project, also known as EMP, was founded by Paul Allen the Microsoft giant. It is a venue for artists old and new and has a restaurant and museum on site.
If the Space Needle has evaded your curiosity all you have to do is lay eyes on it. It is awe inspiring and unique structure pulls you in for a breathtaking view of the city, the Cascade mountain range, the Olympic mountain range, the Puget Sound, Lake Washington, Lake Union, and on a clear day several mountains including Mount Rainier. Atop the giant structure is a revolving is a fine dining restaurant. The Seattle Waterfront is home to many other amazing activities ranging from hang gliding, the famous Ye Olde Curiosity Shop and Museum, ferry terminal that runs boats through the San Juan Islands, the Seattle Aquarium, and famous seafood restaurants.
Pike Place Market is just a short walk up a flight of stairs, or elevator if you choose. It is a market of vendors selling fish, flowers, jewelry, jams, pasta, fruit, vegetables, and unique pieces of art. Seattle has many high end shopping locations such a Westlake Mall and Pacific Place, all walking distance or a short ride on the light rail. If your activities are geared towards children, try the Seattle Aquarium or Alki Beach across the water for sandcastle building or just relaxing. Seattle and surrounding areas offer other outdoor activities nearby that include just a 30 minute drive or less.
Snoqualmie Falls and Lodge is a site to behold and not to forget at the right time of year. Snoqualmie pass offers an intertwined myriad of hiking trails that are sure to challenge even the most experienced. If golf is your thing, Seattle has some of the country's top rated courses within a one to two hour drive including Washington National, Newcastle in Bellevue, The Home Course, Hawk's Prairie, and a short ferry ride over to Kingston will give you a phenomenal Washington based course called White Horse.
The Space Needle address and hours
Space Needle
400 Broad St.
Seattle, WA 98109
Located near the Monorail and Seattle Center House at 5th Avenue North & Broad Street.
Advertisements:



The Space Needle is open 365 days a year, but may close for special events.
Monday – Thursday: 9:30am – 11:00pm
Friday & Saturday: 9:00am – 11:30pm
Sunday: 9:00am – 11:00pm
*the Ticket Booth closes 1/2 hour prior to the above closing times.
Photo by wildpianist on flickr
You should follow me on twitter here.