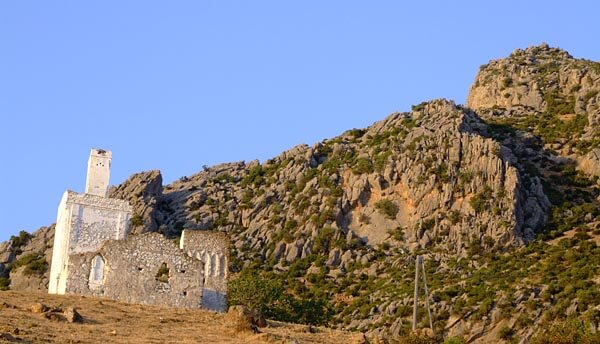 The Spanish Mosque in Chefchaouen in Morocco is located two kilometers from the eastern medina gate known as Bab al-Ansar. It is a ruined mosque which overlooks the town. This Spanish-built Mosque was abandoned in the 1920s during the Rif War. The views of the mosque from Chefchaouen are attractive. The mosque is visited regularly by boys smoking kif and picnicking locals, especially on Fridays and they are friendly.
From the medina the mosque is a nice morning hike on the hill and sits alone to the east overlooking Chefchaouen, which at a slow pace will take you about 45 minutes. The local Riffian women are often found going about their daily chores where the trail passes on the Ras el Ma River. Fences of agarve cacti and prickly pear make up the trail up to the ruin. There are livestock that walk by and people who live in the local area as this is the main path from the high up villages coming into Chefchaouen.
The mosque was built for the local population by the Spanish but fell into disrepair after being abandoned. Some of the interior ideas of a mosque are given as it is still standing. The blue sky and shine of white color against the green field are seen on the limestone peaks of the Rif range on a clear day.
Advertisements:



Photo by peregrinari on flickr
You should follow me on twitter here.