Washington travel guide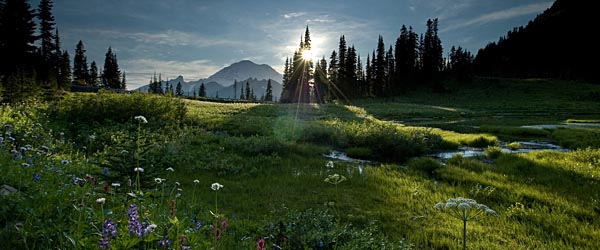 The state of Washington, located in the Pacific Northwest, was the forty second state admitted to the union and named after George Washington. Washington has something for every visitor whether you like the mountains or the sea.
Seattle is the largest city and over have of the states population lives there. It is the center of transportation industry and business along the Puget Sound. The rest of the state is mostly rural and consists of rain forests, mountains, and even semi desert areas. The capital is Olympia.
If you like the mountains visit Mt. Rainier or Mt St Helen's which is an active volcano. You can do some mountain climbing, hiking, biking and camping here.
When in Seattle stop at the Space Needle that was at the World's fair, the original Starbucks, the Seattle Art Museum, Aquarium or Pike Place Market and the Seattle Waterfall Garden. Out on Puget Sound you can fish, swim and enjoy boating also.
Travel from Seattle and visit the Olympic Peninsula, take the Cascade Loop that traverses the Cascade Range and through mountain towns such as Leavenworth. Further East is the Columbia River Basin where the Grand Coulee Dam is located. It is the largest concrete dam in North America.
Stop at Spokane which is the largest city in the eastern part of Washington. While there visit a winery or distillery. Visit the local park and enjoy the Japanese Gardens there or go to the zoo. Spokane has several casinos for those of you who want to try their luck.
Washington will make a wonderful vacation for the whole family this summer.
Photo by Mike Hornblade on flickr