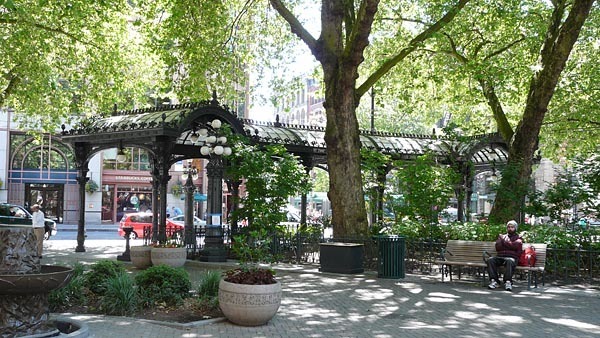 Pioneer Square is a must-see neighborhood in Seattle, and a perfect place to spend the afternoon after days of playing tourist. This is the spot to put the camera away and relax. Stop by the Central Baking Company for some handmade pastries for a picnic in the park, or grab a coffee at the cozy and friendly Zeitgeist Kunst and Kaffee. Tucked in small section of downtown, this is where Seattle got its start, but also is the origin of the term, "Skid Row". Travelers aren't in any danger here, but it is important in any situation to be aware of your surroundings and pay attention to your purse and camera. Pay close attention to the old buildings and hipster charm not usually found in downtown areas.
The cobblestone-lined streets of Pioneer Square provide a great backdrop for an organized walking tour, or a self-guided stroll. Along with the lively bars, cool boutiques, funky hangouts, galleries, restaurants, sculptures, bookshops and parks in the area, the coolest thing you will encounter is the Tlingit totem pole, which has been standing proud since 1899. More inquisitive travelers may be interested in the quirky "Underground Tour" and artsy folk shouldn't miss the art walk held each first Thursday of the month.
Seattle's Pioneer Square location
Seattle's Pioneer Square is at the corner of James St. and 1st Ave.
Advertisements:



Photo by gabri_micha on flickr
You should follow me on twitter here.