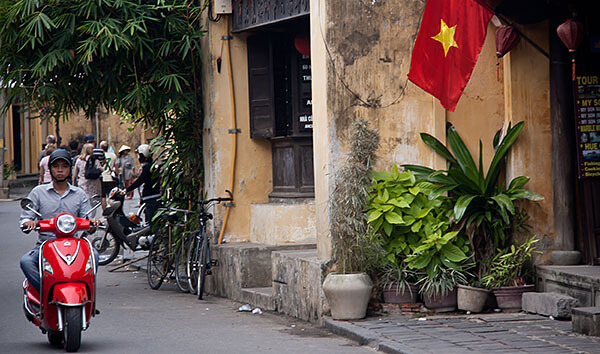 The bus and coach travel options for Vietnam are fantastic and great value, however for the more adventurous traveller the only way to truly see such a culturally rich country with such astonishingly diverse landscapes, is by motorbike.
Freedom, the wind blowing in your hair and the open road before you, and every twist and turn presents yet another picture perfect scene that you will never forget. To make it a truly magical experience there are some things to bear in mind and tips to help you on your way.
How to buy a bike
Advertisements:



In Vietnam there is no bike allowed above 200cc unless you are a native citizen. This is no problem, I rode from Ho Chi Minh City to Da Nang along the coast on a 110cc Kymco , a Honda Wave copy that looks and rides exactly the same.
In Ho Chi Minh City you will have numerous guides approach you on bikes offering to take you here, there and everywhere. Make sure you choose a guide that can show you a book of testimonials from previous customers, before considering his services. Beware, ask his hourly rate beforehand and ask to see it on paper.
I did not realise this, agreeing  $5 for 1 trip. I ended up with him all day, and at the end he pulled out his laminated hourly rates sheet. I can't remember the exact rates but it cost around $20. I am not complaining as he was absolutely invaluable, taking me to around 4 remote locations all over the city to look at second hand bikes. I couldn't have done it without him, just something to bear in mind if you are on a tight budget.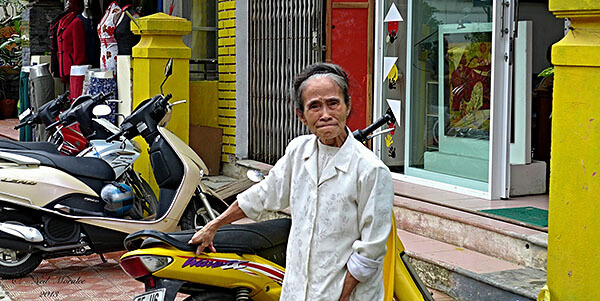 The bike itself
You don't need to be a mechanic for this, just use a little common sense.  Make sure you give the bike a good test ride, check the shock absorbers are not bottoming out. Look for oil leaks, check it changes gear ok, pulls as well as it should, doesn't look bent, the tyres are ok and the wheels are not loose and so on.
The beauty of Vietnam is that this is the style of bike almost everybody has, so almost every roadside shop is a mechanic. I had the exhaust almost fall of and my petrol tap block up. Both were fixed at the side of the road in the middle of nowhere for around 10 cents by friendly locals, offering drinks as we waited. 
Shops are very frequent and the Vietnamese know these bikes inside and out. On the coastal route I took, I doubt you would have to push your bike for more than 1k in the worst case scenario. Just look for the universal sign for mechanic, a tyre painted white at the side of the road (PIC).  I paid $250 for my bike, and got the same price for it at the end of my trip.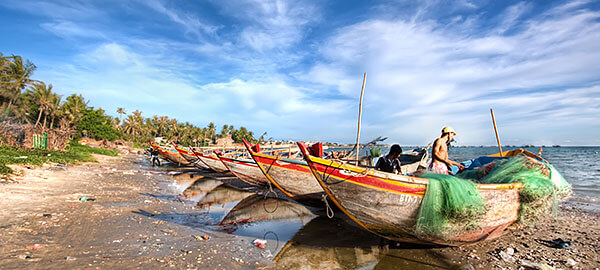 The ride
To even contemplate this trip you need to be a competent rider as it can be challenging, the scariest part is getting out of Ho Chi Minh City. Make sure you have a phone with GPS, and a map. Your phone will not work at all times.
Take note of road names and destinations along the way and use the phone and map as a guide, do not expect to be able to use it like a sat nav.  Give yourself plenty of time to get from one place to the next, I found 100-150k a day comfortable, giving you time to relax and take in any sights you come across, and to give your bum a rest!
I would recommend sticking as close as possible to the coastal roads and brace yourself for some of the most spectacular scenery you are ever likely to see!
Travelling by bike you will see all the things you miss out on going by bus; the chance to meet some of the locals in the small villages and being able to stop as and where you please. Having experienced this I would say there really is no other way to see this magnificent country.
Stay safe and happy riding!
Photos by Chris Goldberg (1), Neil Moralee (2), and Christopher Schoenbohm (3) on flickr
You should follow me on twitter here.