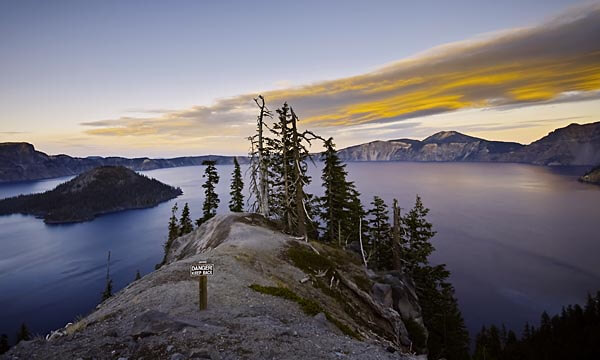 If you like the outdoors, Oregon has many places of spectacular beauty and untouched nature. One such place is Crater Lake. It is a caldera or cauldron lake created by the collapse of land following a volcanic eruption. In this case, Crater Lake was created by the collapse of Mount Mazama. It was first seen by European eyes in 1853 by John Wesley Hillman, however, to the Klamath tribe of Native Americans, this place is sacred and shrouded in legend. Their legend says that in a battle between Skell, the sky god, and Llao, the god of the underworld, Mount Mazama was destroyed. The lake is also famous for the "Old Man of the Lake." This is a full size tree that has stood in the lake for more than 100 years. Only now, it is merely a stump. Due to the weather, the tree has been carefully preserved. You can also see Wizard Island, one of two islands on the lake.
Advertisements:



There are many actives offered at Crater Lake National Park. Summer months are the best time to visit. You can hike or bike one of the many trails. Some of the trails are for highly advanced bikers and hikers due to the steep grade. Because the lake has some of the purest water and is one of the deepest lakes in the world, it is truly a unique experience for seasoned divers. For the less enthusiastic, the park offers boat tours of the lake and bus tours of the 33 mile Rim Drive. The most important thing to remember when visiting this or any park, come prepared with supplies and water.
Crater Lake National Park location
From Medford - Route 62 north and east to the park's west entrance.
From Klamath Falls - Route 97 north to Route 62 north and west to the park's south entrance.
The closest airports are located in Klamath Falls (60 miles from the park) and Medford (80 miles from the park). Car rentals are available in both towns.
Visitor centers are open daily.
Photo by Meredith_Farmer on flickr
You should follow me on twitter here.