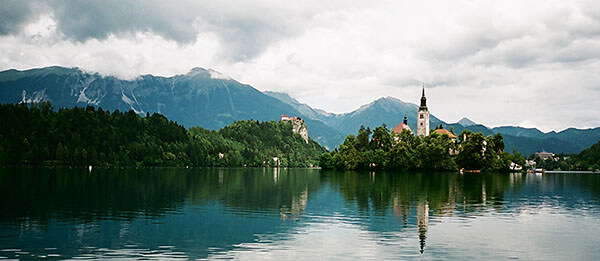 Deep in the south of Europe this charming country is a real gem, quiet and peaceful, boasting some of the most dramatic and breath-taking landscapes.
You can fly to the capital city of Ljubljana with ease by a choice of airlines, from most major airports. Give yourself a few days here to explore. Not to be overlooked, Ljubljana is bustling and lively whilst retaining an air of serenity not usually found in a city. It is definitely worth a visit.
Once you have soaked up some of the fascinating culture, you only have to get a few kilometres out of the city to start appreciating Slovenia's vast countryside. Just 40 minutes by bus from Ljubljana is the ancient Lake Bled. When in Slovenia this is an absolute must see destination.
Castle on the cliff
Sitting on the edge of a sheer cliff overlooking the pure and crystal clear waters of Lake Bled, is Slovenia's oldest castle. Bled Castle is steeped in history dating all the way back to 1011. Resplendent both in the light of day and by the complimentary lighting at night, it is a stunning sight. It looks surreal and mystical, like the illustration or the imagination of a childhood fairy tale.
Church on the lake
In the middle of Lake Bled is an incredible 17th century church complete with bell and spire. You can hire a boat from the shore and row out to it which is a fun group activity. Alternatively you can catch one of the regular mini ferry boats.
When you are on the island, you can buy a ticket for 1 euro to go up the spire and actually ring the bell. You can even have your wedding on here. Tradition says it is lucky for the groom to carry his bride up the 99 steps to the building, ring the bell and make a wish in the church. This charming ritual has been happening for centuries on this quaint little island. Looking up at the spire towering high above you, one can't help but romanticise and feel as if you are in a Shakespearian play.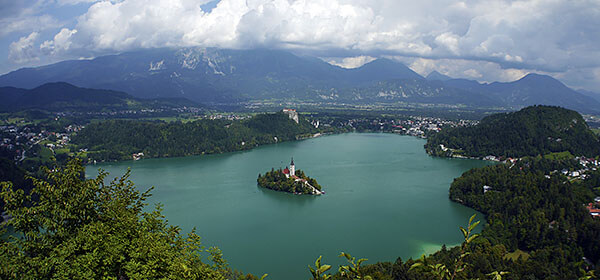 Looking out over Bled
To get an awe inspiring view of Lake Bled, for the more active traveller it is highly recommended to take a hike up to the top of Little Osojnica Hill. It is the closest hill to Lake Bled, and has a fairly well-trodden path. Nonetheless it is steep and can be quite challenging in places, but it is well worth the walk. On the way up you will see babbling brooks and waterfalls flowing with the supernaturally clear waters that end up in the lake. Under the cover of the trees the water here looks like it is almost glowing due to its volcanic bluish tinge. The walk itself is an experience and you can't help but be hypnotised onwards through the plush foliage. When you get up to the viewpoint it is completely entrancing and perfectly defines the word picturesque.
Lake Bled is somewhere that will always be with you once you have visited. It is Slovenia at its finest and a true piece of its heritage. The history on Lake Bled has an almost palpable feel to it amidst its dramatic mountainous setting. It is a place absolutely not to be missed, an absolutely must see destination for travellers from every walk of life.
Advertisements:



Photos by mk_is_here (1) and James Southorn (2) on flickr
You should follow me on twitter here.