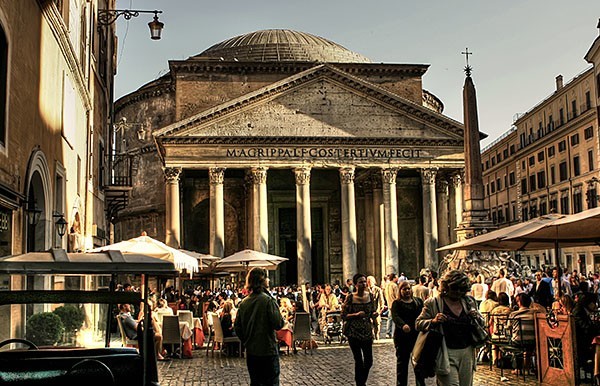 No trip to Rome would be complete without a visit to Pantheon. Because it is such a popular tourist destination, you will have to plan to deal with crowds on your visit, but pictures just do not do it justice. The Pantheon, lit from below on a summer night, is something you just have to experience for yourself. The opulence of the domed ceiling viewed from inside is enough to take your breath away.
The Pantheon is the oldest intact structure in Rome. It is an amazing feat of ancient engineering. It was the largest concrete structure in the world until the 20th century. The Pantheon was admired by Michelangelo for its beauty and its perfect proportions.
Originally a pagan temple, the Pantheon was turned over to the Catholic Church by Byzantine Emperor Phocas in 609 B.C. It became the Church of Santa Maria and Martyres. This consecration most likely saved the building from the pillaging and decay that destroyed most other ancient temples. The Church of Santa Maria and Martyres is still an active church which celebrates mass and is a popular venue for weddings.
In front of the Pantheon, is Piazza della Rotonda. It is a bustling public square with bars, restaurants and plenty of local color. Piazza della Rotonda is also a popular hangout for cash strapped youth.
Due to the narrow streets buses do not come all the way to the Pantheon. You will have to get off a few blocks away and walk. If you start at the Spanish Steps, you can stroll past the Trevi Fountain, visit the Pantheon, and end at the Piazza Navona.
Advertisements:



While it can be enjoyable exploring and discovering Rome on your own, a good guide book is a must. If you are truly interested in the history and architecture you may want to take a guided walking tour. There are many good ones available.
Pantheon location and hours
Pantheon
Piazza della Rotonda
00186 Rome
Visiting hours are Mon through Sat: 9 am to 6.30 pm and Sunday 9 am to 1 pm.
Photo by Giuseppe Moscato on flickr
You should follow me on twitter here.