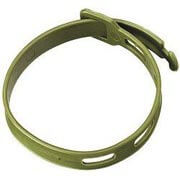 If you're tired of the mess of most bug repellents, or poisonous DEET, this is a great little product for camping trips, spending time outside, or any destination with insects. The vapors from the plastic BugBand wristband form a protective shield around the immediate area, keeping insects a safe distance away.
Most bug repellents are either messy sprays or creams, and are easily worn off by water or simply wearing them over a few hours. These low-cost plastic bug bands keep working for 120 hours each, and you can go swimming, or sweat away, and the bug protection will still work. They're also packaged in a sealed pod, so the life span is greatly increased if you put it back in the pod between uses.
The Bug Band is suitable for kids, because the plastic band is designed with a patented break-away strap that snaps if it becomes entangled. It can also be worn on belt loops, hatbands, pet collars, fastened in tents, attached to baby carriages or applied to other areas where insects could be a problem. And there's no DEET to irritate the skin or your kids' lungs.
Advertisements:



Right now, only $2.99 from Amazon.com or a 4 band family pack for $12.95.
You should follow me on twitter here.