Unfortunately, this restaurant is now closed down.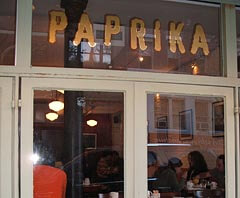 Brunch venue extraordinaire, Paprika is a heartily recommended visit in New York's East Village.
The brunch at Restaurant Paprika
On a lazy Sunday, six boisterous guests - that's us - rolled into Paprika on St. Mark's Place in New York both hungry and poor. This was a good thing.
The brunch special at Cucina Italiana Paprika is a brilliant USD 10.80 and this includes coffee, tea or juice, a Bellini or Mimosa, and a choice of a meal. I ordered the blueberry pancakes with crisp apples, which was excellent.
My companions chose eggs benedict that came on heaping plates and my wife a sumptious goat cheese and spinach omelet. We also ordered in some scrambled green eggs that I highly recommend. Tasty!
Service and venue at Restaurant Paprika
Located in midtown, on St. Mark's Place, you're near most of the reasonably priced hotels in Manhattan. I won't say cheap hotels, as you won't find any of those in New York.
The service was reasonable, but a little rushed, even though the restaurant was mobbed. Restaurant Paprika itself is modern and airy, with tasteful decorations and comfy seats. Mind, it's a tight fit, which won't bother the trendy crowd eating here.
In the evenings, Cucina Italiana Paprika turns into a trendy bar and restaurant and we'll be back for our next New York visit.
Cucina Italiana Paprika contact details
Advertisements:



Cucina Italiana Paprika
110 St. Mark's Place (between 1st Ave and Ave A)
New York, NY 10009
+1 212 677 6563
www.paprikarestaurant.com
See a map to Restaurant Paprika
You should follow me on twitter here.