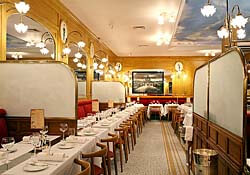 For anyone heading to the United States and who enjoys food, the Hungry City Guides will help zero in on those venues that'll satisfy the palate. The guides currently cover Boston, Chicago, Las Vegas, Miami, New Orleans, New York, San Francisco, Seattle, and Washington DC.
The restaurant tips are broken down by type of food and by neighborhood, so you can easily find what you're looking for. For example, if you're looking for pizza in New York, you'll get a comprehensive listing of pizza parlors. With the guides being accessible from a smart phone as well, they're a great tool for frequent travelers.
Here's what the company say about their guides:
The Hungry? City Guides are urban dining and drinking guides that, with a pop of your car's glove box, or a tap of your cell phone, are never farther than an arm's reach away.
We give you the lowdown on where the real people eat and drink. Our books are organized by neighborhood and contain hundreds of restaurant, café, and bar entries that offer you insider's tips on where to go, where to park (or what bus or subway stop to take), what the best seats in the house are, and what menu items not to pass up. Tired of those other guides that inevitably guide you to the posh, the over-priced, overrated, and pretentious? We have the authentic, the mom-and-pops, and the neighborhood gems you've been hungering for.
Dozens of food-loving natives contribute to each city's guide, so you always get the scoop. So whether you're a tourist, commuter, resident, or native, we can be your first mate in your search for the freshest catch of the day, your pard'ner in rounding up the perfect steak, your personal guide as you tour the world of ethnic cuisine. We'll even ride shotgun as you hop the bars of your city and later, seek out that hole-in-the-wall for the perfect after-hours snack.
Advertisements: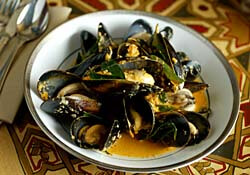 The guides come in both book form and the 'deck' format. The latter is a book of discount coupons that help you get a great deal on your next meal while traveling.
There's also a set of Thirsty? City Guides that help you find a place to get drunk, just like the Hungry? City Guides help you get fed. They cover the same cities as the Hungry? City Guides, and are also available via cell phone if you need a tip for a bar while out on the town. The Thirsty? City Guides also cover local coffee shops, so they're not just for budding alcoholics like myself.
You should follow me on twitter here.