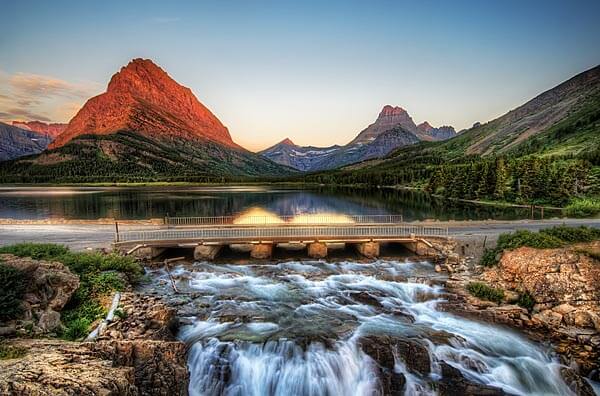 Glacier National Park, located in Montana, is America's 10th national park. The park encompasses over 1 million acres of dense forests, breathtaking waterfalls, lakes, and alpine tundra. This park is rich in history and preserves an abundance of plant and animal species.
Long ago before the Europeans inhabited North America, this region of Montana was home to the Blackfeet, Salish, and Kootenai Indian tribes. There is archeological evidence that shows there has been human inhabitance for 10,000 years.
Lovers of the great outdoors can enjoy the bounty of recreational activities that the park has to offer including: exploring abandoned mine shafts, skiing, snowshoeing, hiking, biking, boating, and horseback riding. Park visitors have the opportunity to lodge in Glacier's historical hotels and cabins that date back to the early 1900s. Temperatures vary at night so visitors should bring a variety of clothing ranging from T-shirts to parkas as elevation can change the temperature 10-15 degrees.
Get away from the busy hustle bustle of your daily life and travel to Glacier National Park to experience a world where time stands still and wildlife roams free.
Directions and hours
By Car
Visitors arriving by car will use US Highway 2 to access the park from either the east or west. Visitors can also access the park from the north using Highways 89 or 17.
By Plane
Glacier Park International Airport in Kalispell, Montana is 25 miles west of park headquarters in West Glacier, Montana. There are also airports in Great Falls, Montana (200 miles east of West Glacier) and Missoula, Montana (156 miles south of West Glacier).
Advertisements:



Car rentals are available at airports. Shuttles are available at the Kalispell airport.
By Train
Amtrak services both East Glacier and West Glacier. Glacier Park Inc., provides a shuttle service at these locations. Please call them at 406-892-2525 for more information.
Glacier National Park is open every day of the year. Winter weather however, tends to dictate when most visitor facilities open. Generally from late May to early September, facilities are open to welcome the flush of summer visitors.
Photo by Stuck in Customs on flickr
You should follow me on twitter here.