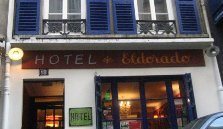 I stayed at this charming hotel in the 17th for two nights with an American friend. After a mix-up of the booked days/type of rooms we had a very pleasant stay here.
The hotel is on five floors and the stairway is narrow and winding, so pack wisely! The rooms are each unique in decor, with clean modern lines. Most rooms have en-suite facilities but some share toilets and showers in the corridor. Prices are set accordingly, so if you're happy to share, it's cheaper. The hotel provides two towels each day and each room had its own sink. There is a courtyard outside.
There's no A/C, so it may be a bit uncomfortable in the summer months, but it was perfect in the autumn. Phones are also available in the corridor. It's not a luxury hotel but it certainly met our needs. Besides, you're in Paris to see Paris... not the hotel room!
As for location, nestled in the heart of the 17th, the Metro was a 5 minute walk away (your choice of 2 lines, the 2 or the 13 I believe) and Moulin Rouge is a quick 10 minute walk.
The 17th, particularly Ave. de Clichy, is filled with tons of little brasseries and bakeries, so you'll never want for a late night snack, baguette, or crepe any time of the day. There is a cute cafe next door and a bakery just down the road.
I recommend this place for travelers on a budget seeking hostel prices without the hostel experience. Or for those desperate to avoid the cookie-cutter chain hotels!
Hotel Eldorado
18 rue des Dames
75017 Paris
Advertisements:



Phone: 33 (0)1 45 22 35 21
Fax: 33 (0)1 43 87 25 97
Website: Hotel Eldorado
You should follow me on twitter here.