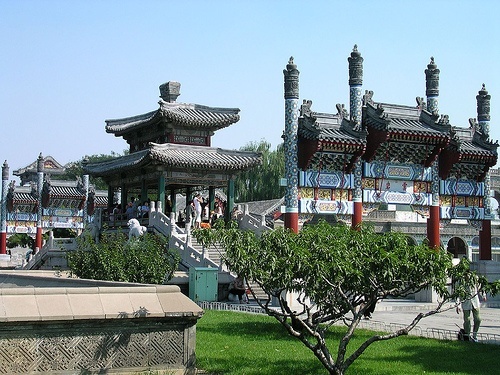 The summer palace is an enchanting side-trip from Beijing where you can discover how emperors spent their vacations thousands of years ago. The palace grounds are huge - over 12 square miles - so even on busy days, you'll likely find a quiet place where you can reflect in the tranquility of this place. The main grounds, which is also the site of the emperor's personal lodge, you'll find a museum housing thousands of artifacts from the Qing and Ming eras.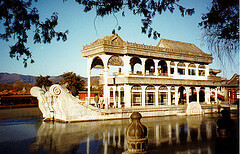 Be sure to bring a camera, because there are very nice views from the buildings down to the many courtyards and overlooking the palace lake. Expect crowds in the summer, and be sure to bring a camera and a warm jacket as it can get quite cool at night.
Originally conceived as a outer fortress to guard Beijing, these grounds were quickly converted to a luxury retreat for visiting dignitaries by Emperor Ming in 1621. Nowadays, the Summer Palace is visited by over 100,000 tourists each year and is the grounds of the annual Beijing Summer Moon Festival which celebrates the summer solstice with a barrage of fireworks, dragon dances and beautiful costumes.
Summer Palace location and hours
Advertisements:



The Summer Palace, located northwest of Beijing's center, is easily accessible from most parts of the city. Head north at Suzhou Bridge on the north-western 3rd Ring Road, north at Sihai Bridge on the north-western 4th Ring Road, or south at the northern 5th Ring Road at the Zhongguancun/Beiqing Road exit. Public transportation also serves the Summer Palace. The North gate is easily accessible from Beigongmen Station on Line 4 of the Beijing Subway.
High season: from April 1 to October 31
Gate: 6:30-18:00;
Parks Inside the Summer Palace: 8:30-17:00;
the following scenic spots inside the Summer Palace: 8:30--17:00;
Close: 20:00
Low season: from November 1 to March 31
Gate: 7:00-17:00;
Parks Inside the Summer Palace: 9:00-16:00;
the following scenic spots inside the Summer Palace: 9:00-16:00;
Close: 19:00
Photos by Jack Parkinson Pics and jimg944 on flickr
You should follow me on twitter here.