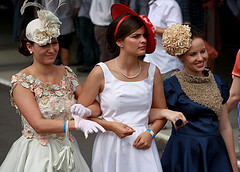 Are you looking for an alternative hen party theme? Sometimes ditching the L plates, the pink glitter cowboy hats and those silly straws is the only way to go if you are best buds with a lovely lady who has a lil'more class and a lotta, lotta style.
50's Vintage is a huge up and coming hen party theme at the moment. Choosing to do things a little differently doesn't mean restricting on the adventures either. There are tons of vintage companies up and down the UK ready to help you host the ideal hen party in the city of your choosing.
Prepare to splurge on a few little luxuries and book bargain accommodation. Forget the theme for a second and recognise how little time you will be spending inside the four walls of your room. So long as there's a shower, a bed, and a mirror so you can perfect those victory rolls, that low-cost room will have everything you need. Visit travelodge.co.uk for great deals on group bookings.
Advertisements: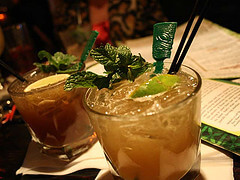 Tinker with your itinerary and make sure you fit in some fabulously themed activities, however long you are away for. Cocktail master classes are a popular addition to any hen itinerary. Ask at your chosen bar if you can learn to make some classic 50's cocktails including the vodka Martini, Mai Tai and Mojito. Wear some amazing halter neck dresses, show-stopping red lippy and drink gin to your hearts' content.
Should you have a little more time on your hands, a number of companies across the country now offer vintage makeovers. Give it a Google and book a pamper party for the hen and her ladies. Expect lots of curls, rosy red cheeks, defined eyebrows and gloriously high cheekbones. The 50's look is all about looking effortlessly glam, basic makeup, done perfectly, and you and the girls are definitely going to rock it.
Of course, another obvious addition to your vintage weekend away has to be an elegant afternoon tea. Complete with salmon, cucumber and cream cheese, and egg and cress sandwich fingers, a well-done afternoon tea really is a trip back in time.
Ensure any lunch is light on the stomach, as afternoon teas often include plenty of sweet treats including pastries, scones and cakes. Add an element of luxe to your afternoon date and add some Champagne to your table reservation.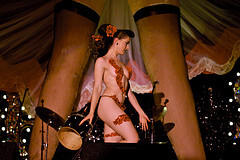 Searching around on the web for other vintage ideas, you will find an array of companies that provide a huge selection of vintage inspired activities. For example, Craft Creative based in Liverpool and Handmade by you of London offer a variety of workshops including a 'fascinator class' and a 'burlesque boutique'.
Alternatively, for a more upbeat addition to your itinerary, book an evening or an afternoon of Burlesque.  A vintage photoshoot is also an option, especially for those who are going the whole hog and incorporating a vintage pamper party into their weekend.
Start creating your hen's perfect vintage party today. Book your budget accommodation today, and look online and the wonderful vintage inspired activities and entertainment available in your chosen city.
Photo by Matthew Kenwrick (1), Kenn Wilson (2), and eschipul (3) on flickr
You should follow me on twitter here.