Introduction to Lisbon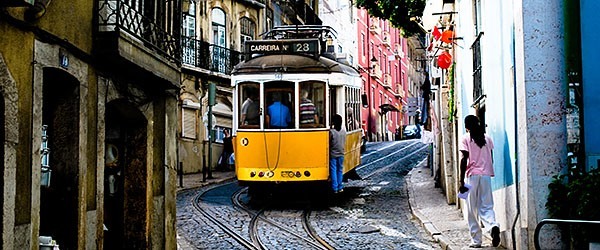 Lisbon, the enchanting capital city of Portugal, is a truly fascinating destination. It is one of the oldest cities in the world with archaeological evidence dating back to 1200BC, and is situated next to the mouth of the mighty Tagus River. It is a bustling social and economic place, an essential base for most European trade, and of course with its rich culture and heritage a must see tourist destination.
In Lisbon there is so much to see and do it can be hard to know where to start. Here are some of the unmissable spots-
Belem Tower
Built all the way back in 1515, this stoic structure exudes strength and solidarity, which was certainly the idea behind its construction. The Belem Tower was made as a fortress to guard the Lisbon harbour, and its striking appearance has led it to often serve as a symbol of its country. So head here to see a living piece of Portugal's heritage. You can't help but be genuinely impressed with this emasculating structure.
Jeronimo's Monastery
For some serious grandeur this is the place to go, it is absolutely huge and jam-packed with some of the most ornate and flamboyant carvings you will ever see.  The Jeronimo's Monastery's majestic main hall has great high roofs with carved pillars rising all the way to the top. It is hard to believe it was constructed in the 1500's. Its grounds are equally impressive, more like a grand courtyard located in the middle of the building, with beautifully kept green grass adorned with statues of important figures relevant to this sacred place. You can visit the grounds for free but will have to pay to go inside the main hall, nonetheless this is truly a place you wouldn't want to miss.
MEO Arena
This is a colossal arena built back in 1998 for the Expo98'. It holds 20, 000 people and it is seriously impressive. Since the Expo it hosts all kinds of events, with bands such as Morcheeba and Michael Buble coming up. It also hosts major football matches, wrestling and even hosted the 2005 MTV Music awards. This monster of an arena looks like a huge UFO from the outside, giving it a certain aesthetical allure. There is always something happening at MEO Arena so be sure to check what's on..
Lisbon Zoo
A classic fun day out for everyone and in true Lisbon style, this zoo really is something special. Situated in the heart of the city, it's easy to get to. It has a whole plethora of animals, from bears and lions, to dolphins and penguins. The animals are all looked after to a very high standard, the zoo was granted a certificate of excellence just this year. You can get around by cable car which allows a spectacular view of the whole of Lisbon Zoo, and the whole city!
Lisbon is great to walk around day and night, with plenty from local markets to high street shopping. You will also find lots of festivals of art and music happening throughout the city. It is a city you can't help but fall in love with.