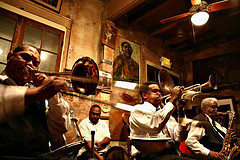 During this August, L.A. celebrates the warm weather with loads of free concerts all over the city. During August 2009, here's what's on:
UCLA Hammer Museum: JazzPOP
This concert series at UCLA's Hammer Museum describes itself in the following way: "This is jazz in and of the present moment, rooted in improvisational interplay but … also inspired by quirky pop hooks, gutsy Southern blues, noir film nostalgia, and avant-garde abandon. Cash bar open all night." Translation: "Yes, the venue will be filled wall to wall with the scrotiest of art school dropout @#!*% , but artsy chicks are totally easy. Cash bar open all night." Shows run throughout August.
10889 Wilshire Blvd, Los Angeles, CA 90024
Pershing Square
Pershing Square hosts a huge number of free concerts during the summer, 5 shows a week for 6 weeks. The entire square is covered by free WiFi, so you can download music risk-free, to try before you buy, while you chill out and listen.
Advertisements:



W 4th St & S Hill St, Los Angeles, CA 90013
Friday Night Jazz At LACMA
Every Friday night from April to November, the LA County Museum of Art has local jazz artists doing their local jazz thing. Or, in the "we have a mission statement and we need to make this fit" description of the webpage, they showcase "the art of jazz as practiced by leading Southern California artists." It's free, and the LACMA is already a place I think you definitely need to check out.
5905 Wilshire Blvd, Los Angeles, CA 90036
Grand Performances
The starting party for the Grand Performances series of events featured a gigantic stage, trucks constantly belching exhaust, and several hours of screeching Latin music. This series runs through the end of August and incldues a good mix of genuinely innovative artists. The performances happen in the California Plaza on the Watercourt stage, which is this surreal artificial lake and waterfall constructed between the Omni Hotel and the Deloitte.
California Plaza Olive St. btw 1st. and 2nd Streets Los Angeles, CA
Farmer's Market 2009 Summer Music Series
During the off-summer months, the outdoor EB's Beer and Wine Bar hosts local bands on their stage Saturday nights on their West Patio Stage. Lineups include everything from country and "American Roots" music, to DJ's spinning tiki tunes for the Luau on August 8th.
EB's Beer and Wine Bar 6333 W 3rd St Los Angeles, CA 90036
Twilight Dance Series 2009
Sponsored by hipster central Amoeba Music, the Twilight Dance Series takes place every Thursday night on the Santa Monica Pier. In its 25th year, the concert series features eclectic music, freebie raffles, and charity drives. Patti Smith takes the stage September 3rd, and a number of noteworthy bands are playing before that last show this August.
Santa Monica Pier, Santa Monica, CA 90401
You should follow me on twitter here.