The world's strongest cocktail! With 8 and a half shots and tasty, this drink is one to reckon with.
Ingredients for the Aunt Roberta
Two shots of absinthe
Three shots of vodka
One shot of brandy
One and a half shots of gin
One shot of blackberry liqueur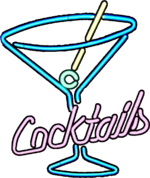 Thanks to the blackberry liqueur, the Aunt Roberta tastes really fine despite packing in half a bottle of booze. Mix it in a cocktail shaker and pour over ice
History of the Aunt Roberta
The Aunt Roberta was invented in the late 1800's by an Alabama woman known today only as Aunt Roberta. Little is known about Roberta except that she was the mulatto daughter of a slave owner who fled an abusive home life and alcoholic father at the tender age of 11. Early on, she made her living picking cotton, and was nomadic for much of her early life.
She worked as a prostitute before her bootleg shack, where she began her career in the alcoholic beverage business by selling drinks made of homemade gin and moonshine. Most of the patrons of her establishment were homeless people, and it's 34 people are rumored to have died over the two years she sold her homemade concoction.
Advertisements:



Apparently, she stumbled upon it when drunk and was never able to get exactly the right measures again. She died in poverty aged 32 in 1886.
The drink was made famous when a customer of Aunt Roberta's, a raccoon hunter named Billy Joe Spratt, introduced his version of the cocktail to New York after Aunt Roberta's death. Spratt opened a series of bars based on the Aunt Roberta cocktail, and within two years became a millionaire.
Make sure to prepare well for your hangover!
You should follow me on twitter here.