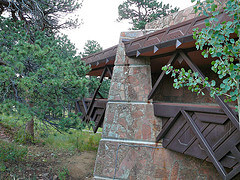 When traveling to the Rocky Mountain National Park in Colorado, Beaver Meadows Visitor Center is an excellent place to stop for information. Here you can watch a short film about the park, find out more about the topography of the area on the large relief map displayed, ask a ranger any questions you might have regarding routes, back country campsites or points of interest, or even purchase books about the region.
The center itself is listed as a National Landmark and was completed in 1967. The rustic styled architecture was designed by students of the Frank Lloyd Wright School at Taliesen West, and was added to the historic register in 2001. The project is noted as one of the most significant commissions for the Taliesen West Architectural Firm following the death of Wright and was one of the last projects completed as part of the National Park Services' Mission 66 Project. The utility buildings that surround the main center are also listed on the register as examples of Depression-era Civilian Conservation Corps construction.
Beaver Meadows Visitor Center is located on US Route 36 approximately three miles outside the town of Estes Park, at an elevation of 7,800 feet. The center is open on a daily basis, year-round (closed on Christmas Day) with varying hours of operation. Check the website to find the hours for a specific time of year. Family restrooms and accessibility for the handicapped are available. There is a picnic area with four picnic tables, however, there are no fire pits or grills available.
Beaver Meadows Visitor Center location and hours
Advertisements:



Beaver Meadows Visitor Center
On US Route 36 three miles west of Estes Park, Colorado
Photo by krossbow on flickr
You should follow me on twitter here.