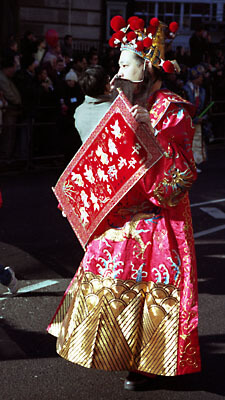 London's Chinese New Year celebrations are a great, free, day out for visitors and Londoners alike. It's also one of the most child-friendly events: With a great parade, art and gymnastics performances, fireworks, and individuals performing for the crowds all over Chinatown, Soho, and Leicester Square.
London's Chinese New Year celebrations
Chinese New Year is the biggest festival of the year in Chinese communities. As it is based on the lunar and solar calendars, the date varies from late January to mid-February.
In 2008 the Chinese New Year festival and parade in central London, celebrating the start of the Year of the Rat, will take place on Sunday 10 February. There will be celebrations all over Soho, China Town, and the surrounding streets down to Leicester Square.
The parade will start on the Strand by 11 am and snake around along Charing Cross Road and Shaftesbury Avenue. Then in Trafalgar Square by about 1 pm, there will be dragon and lion dances, and the best of traditional and contemporary Chinese arts and entertainments.
There will be a fireworks displays at 2pm and 5pm in Leicester Square. This is colorful, dramatic, and amazingly loud! Bring your camera to this one.
Some more information at the London Chinatown Chinese Association website.
Chinese New Year celebreations at British Museum
If Chinatown's throngs of people would be too much, the British Museum is also celebrating Chinese New Year tomorrow 9 February with a bunch of free events this year. Mind that some have limited admittance, so you'll need to line up for a ticket.
For example, there will be a workshop on "Make your own Terracotta Army", a theatrical performance of 'Monkey - Journey to the West', which is a Chinese classic (definitely book tickets before the 6pm show time). There's also a puppet theatre and Chinese films will be showing throughout the day and evening. For this day only, the museum is open until midnight.
During the Lord Mayor's China in London event period and until the end of February, there is also an exhibition called 'The First Emperor', which focuses on the heritage of Qih Shuangdi, and includes many figures from his terracotta army.
Some of my Chinese New Year Parade photos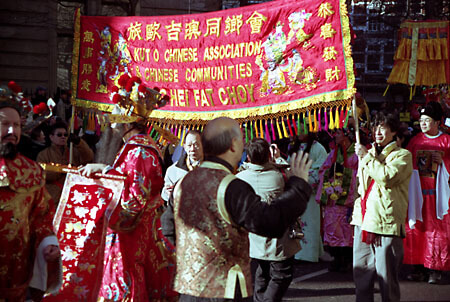 The beginning of the Chinese New Year's Parade in London.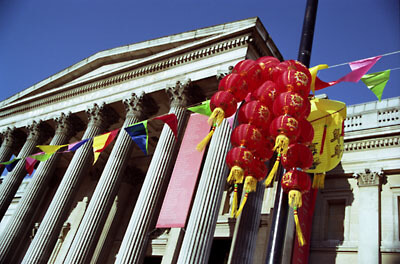 Chinese lanterns outside the National Gallery on Trafalgar Square.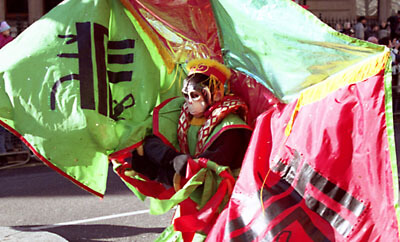 A man in a monkey suit at the Chinese New Year's Parade in London.
Background of the Chinese New Year
Chinese months are reckoned by the lunar calendar, with each month beginning on the darkest day. This means each year's festivities will begin on a day different from the previous year's. New Year festivities traditionally start on the first day of the month and continue until the fifteenth, when the moon is brightest. In China, people may take weeks of holiday from work to prepare for and celebrate the New Year. The Chinese New Year is the longest and most important celebration in the Chinese calendar.
Festivities for Chinese New Year
At Chinese New Year celebrations people wear red clothes, decorate with poems on red paper, and give children "lucky money" in red envelopes. Red symbolizes fire, which according to legend can drive away bad luck. The fireworks that shower the festivities are rooted in a similar ancient custom. Long ago, people in China lit bamboo stalks, believing that the crackling flames would frighten evil spirits.
The Festival of Lanterns
In China, the New Year is a time of family reunion. Family members gather at each other's homes for visits and shared meals, most significantly a feast on New Year's Eve. In the United States, however, many early Chinese immigrants arrived without their families, and found a sense of community through neighborhood associations instead. Today, many Chinese-American neighborhood associations host banquets and other New Year events.
Chinese New Year ends with the lantern festival on the fifteenth day of the month. Some of the lanterns may be works of art, painted with birds, animals, flowers, zodiac signs, and scenes from legend and history. People hang glowing lanterns in temples, and carry lanterns to an evening parade under the light of the full moon.
In many areas the highlight of the lantern festival is the dragon dance. The dragon—which might stretch a hundred feet long—is typically made of silk, paper, and bamboo. Traditionally the dragon is held aloft by young men who dance as they guide the colorful beast through the streets. In the United States, where the New Year is celebrated with a shortened schedule, the dragon dance always takes place on a weekend. In addition, many Chinese-American communities have added American parade elements such as marching bands and floats.
Dates for 2008 to 2010 and the Chinese Zodiac signs
2008 is the year of the Brown Earth Rat and begins on February 7
Advertisements: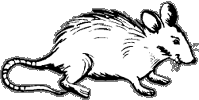 Legend has it that in ancient times, Buddha asked all the animals to meet him on Chinese New Year. Twelve came, and Buddha named a year after each one. He announced that the people born in each animal's year would have some of that animal's personality. Those born in rat years tend to be leaders, pioneers and conquerors. They are charming, passionate, charismatic, practical and hardworking.

2009 is the year of the Brown Earth Ox and begins on January 26

The Ox works hard, patiently, and methodically, with original intelligence and reflective thought. These people enjoy helping others. Behind this tenacious, laboring, and self-sacrificing exterior lies an active mind. While their balance and strength inspire confidence, Oxen can seem rigid, obstinate, and slow. They impress others as leaders, fearing neither responsibility nor risk. However, sometimes they must labor long hours to accomplish little.

2010 is the year of the White Metal Tiger and begins on February 14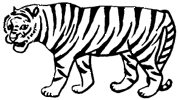 The Tiger, the living symbol of strength and power, generally inspires fear and respect. Tigers' compelling dynamism, intense activity, independence and curiosity about others make them irresistible, persons of multiple charms; Tigers attract followers and admirers. The Tiger is courageous, active and self-assured, and makes an excellent leader and protector. However liberal-minded Tigers may be, they are passionate, rash, and resist the authority of others. Although they are selfish in the little things, they are capable of great generosity, even of altruism, in the larger. Tigers are men and women of action, thrust by destiny into the spotlight.
What do you think of this event?
Let us know in the comments what you think about the Chinese New Year celebrations in London and other cities around the world!
You should follow me on twitter here.