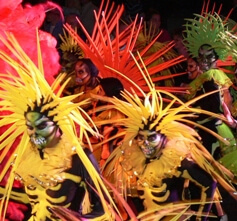 This weekend sees the London Mayor's 10th Thames Festival. If you brave the crowds, this is what you'll be able to see.
Feast on the Bridge
Southwark bridge will be transformed by a team of artists into a series of eating areas: an enchanted woodland picnic complete with fairy-tale gingerbread house, a traditional British seaside, a formal banquet, a lounge bar, exotic tents, and a village fête.
Rivers of the World
A river side display of art centered on six themes: River of Life, Polluted River, Resourceful River, Working River, River City, and River Culture.
Green Man Stage
Blue Ribbon Village is set up in Potter's Field Park. This holds the Green Man Stage, which will hold a series of speakers and music performances during the two days. Speakers include Satish Kumar, former Jain monk, environmental and peace activist, author, founder of Schumacher College and editor of Resurgence magazine. On the music side, bands Seize the Day and Planetman and the Internationalz will be performing on the Green Man Stage.
Illuminated Night Carnival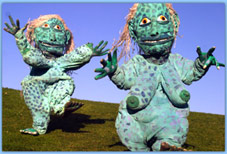 This beautifully lit carnival brings together 2,000 musicians, dancers, amazing lanterns and illuminated costumes. International carnival groups from across the world come and perform their work, including this year's Australian centre-piece, the giant articulated Snuff Puppets.
Thames Festival website
Advertisements:



The official website is at www.thamesfestival.org.
A great weekend of fun
This year's festival looks like it'll be a whole lot of fun. If you're in London this weekend, do visit the Thames Festival on the Southbank.
You should follow me on twitter here.