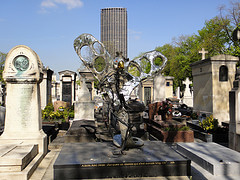 A cemetery may not be on top of the list of places to go when you travel, but do consider Cimitière du Montparnasse when you are in Paris. It is the second largest cemetary in Paris proper, with some 35,000 tombs located there.
Montparnasse, also known as the left-bank cemetery, is an important green lung for Paris. It is surely a welcoming respite as one takes a short break under maple, lime or ash trees before resuming the tour of the place.
Many of France's top names in arts, science as well as other fields now reside in Montparnasse, including author Guy de Maupassant, actor Marcel Bozzuffi and philosopher Jean Paul Sarte. Other names may not be as obvious, such as Louis Gustave Binger the explorer. He was credited as the person who "gave" Ivory Coast to France.
The cemetery is quite easy to navigate, but do remember to wear comfortable shoes as you may want to spend a few hours walking among France's past famous residents.
Cimitière du Montparnasse address
Advertisements:



Cimetière du Montparnasse
3, boulevard Edouard Quinet 75014 Paris
Tel.: +33(0)1 44 10 86 50
Metro: Edgar Quinet or Raspail
Buses: 28 or 68
Photo by claytron on flickr
You should follow me on twitter here.