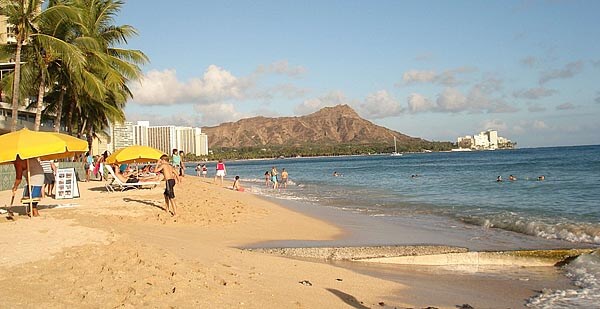 Just down the road from the most famous beach in Honolulu, Waikiki, is another beach that is often less crowded but no less splendid, although it is not for sunbathers - much better for surfing and snorkelling.
Advertisements:



Situated below the extinct Diamond Head volcano, the landmark of Honolulu, the beach sits on the south slope of the crater between Beach Road and the Diamond Head Lighthouse. On the way here, you will pass several photo spots, including the original Kodak photo site - where there is often a hula exhibition in progress. The open grounds on the way to the beach and Diamond Head are also popular sports grounds, so on weekends you can stop to participate in a game of soccer or volleyball - if you do not get too sweaty. Hiking or riding a bicycle here makes for a great half-day trip (bring a picnic basket), although start out early in the morning before it gets too hot. If you come by car, look for the opening in the wall where there is an unpaved trail leading down to the beach. The picnic basket makes sense since despite Diamond Head being one of the main attractions of Honolulu, there are not so many restaurants in the vicinity, mostly in the nearby hotels.
The beach itself is a narrow and rocky beach with just a small patch of white sand. There is a coral reef, so swimming conditions are fair. For surfers, though, this is much less crowded than Waikiki, and not less accessible. Windsurfing conditions are also great, as the winds are not sheltered by the Diamond Head volcano, which they can be further up the Waikiki beach. Snorkeling is also good provided the waves are not too high.
The real reason to come here, though, is for the view. Diamond Head juts out into the ocean and from here you can see plenty of the Oahu shoreline.
Photo by coschrei on flickr
You should follow me on twitter here.