Introduction to Honolulu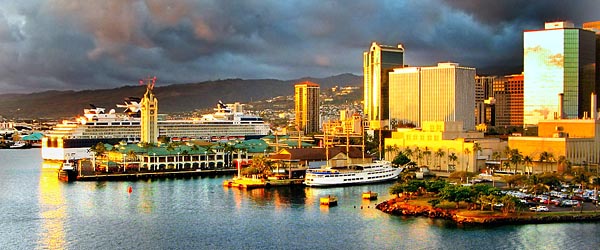 Sunshine, serenity, beauty and excitement! Honolulu, Hawaii is a most welcoming vacation spot at any time of year. You will be greeted with a hand-made Hawaiian lei with a kiss on the cheek; with background music of ukulele's being played by the Native Hawaiian's; singing songs that bring inner peace and happiness; while watching the Hula being performed. Does it get any better than this? The true meaning of Aloha spirit (a fun bit of trivia; Aloha means Hello, Love, Welcome) surrounds you.
You have the great blues of the Pacific Ocean surrounding you; The magnificent Diamond Head can be spotted from just about anywhere. The surfer's are riding the waves; waves so incredibly high it's as if they are flying. There is an abundance of shopping always surrounding you. The International Marketplace is a must-visit; it is perhaps one of the most amazing shopping experiences I've had. My favorite coffee table was purchased at one of the shops at the Marketplace; black lacquer and inlaid mother of pearl shaped into a gorgeous dragon. While shopping and sightseeing, a visit to Honolulu's Chinatown is also worth the time.
Don't forget to attend a traditional Hawaiian luau, take a hula lesson, learn to create your own lei. You'll love the restaurants; which almost always includes a beautiful orchid on your plate. Hawaii brings pure joy to the heart.