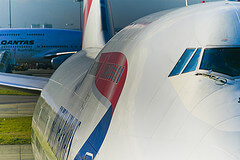 British Airways (BA) travelers could end up with some major disruptions of their travel plans over Christmas if strike threats by the cabin crews' union go ahead. BA has made public plans that 1,700 cabin crew positions are to be eliminated.
This will be done by removing 1,000 jobs by natural attrition and voluntary redundancy, and another 3,000 employees will go from full time employment to part time.
Advertisements:



A cabin crew union source said: "This is astonishing. Cabin crew staff are furious. This imposition brings a strike ballot closer." They added that unions had tried to negotiate with BA but the carrier is "intent on confrontation".
The union is so mad in fact that there are now strike threats over the holiday season (just like the Tube union in London), meaning that BA passengers may end up stuck at their vacation destination or at home this Christmas.
The cuts will result in a Boeing 747 flight being staffed by 1 less cabin crew. BA will also introduce a two year pay freeze on basic wages for cabin crew. The changes at BA will come into effect from next month and the airline has stressed that they are vital for survival.
BA isn't the only European airline doing this either, with Irish Aer Lingus announcing similar plans recently, and others in the process of either carrying out staff reductions or will be shortly.
Photo credit: Remco Ophof
You should follow me on twitter here.