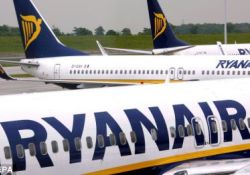 Budget airline Ryanair wants to offer flights to the U.S. for just £8 plus tax. The budget airline is preparing to buy cheap planes from struggling rivals for the service, which could start at the end of next year. Flights are likely to go from Stansted and Dublin airports to New York, Florida, Los Angeles, San Francisco, and Boston.
The plan was revealed as chief executive Michael O'Leary announced half-year profits had nosedived by 47 per cent to £170.4million. He forecasted his company would make a loss over the next six months. O'Leary blamed the drop in earnings on soaring fuel costs, with prices rising by 101 per cent in the six months to September 30.
However, passengers - if not the City - will be pleased to learn the airline expects a drop in average fares of between 15 per cent and 20 per cent, leading to losses in the third and fourth quarters of the year. Mr O'Leary said average fares this winter would be less than £20. Ryanair's desire to keep its planes flying with fewer empty seats coupled with falling oil prices should drive fares lower, Mr O'Leary said.
Explaining the decision to reduce fares more deeply than previously forecast he said: "We can see what forward fares are looking like. Clearly passengers are becoming more price-sensitive. Clearly the biggest thing overhanging passengers and us is the recession. But these price cuts will mean more bankruptcies at other weaker airlines, and we hope to help them shuffle off their mortal coil."
O'Leary said the cuts should mean Europe's biggest budget airline will continue to attract customers, mainly in Europe, growing its passenger numbers by 14 per cent this year to a total of 58 million. On that basis, he is holding to his forecast that Ryanair will break even by the end of next March. It had record profits of 481million euro last year. He said he believed his company will break even over the full year, as lower fares would be largely offset by the recent reversal in fuel costs.
He added: "The recession will continue to drive down oil prices and fares this winter. We will continue to respond with lower fares and aggressive price promotions to keep Europe flying and to maintain our market leading load factors. If oil prices remain at approximately 80 dollars a barrel next year then our earnings will rebound strongly. We have a significant cost advantage over our competitors, many of whom have hedged fuel next year at significantly higher levels than current market prices. This will force competitors to further increase airfares and widen the price gap between them and Ryanair's lowest fares."
A hedge contract commits an airlines who bet that fuel prices will go up to paying a pre-determined price for future jet fuel purchases. The Ryanair boss has also revealed plans to fly to the U.S. and massively undercut major international airlines like British Airways.
Advertisements:



"Economy class will be very cheap - around 10 euros. But our business class will be very expensive. There's always 10 to15 per cent who'll pay whatever it costs for a wide seat," he said.
The £8 flights - which could begin by the end of next year - would be available for those booking early. Passengers would pay airport taxes on top of the fares. Mr O'Leary is expected to announce plans to buy more than 50 aircraft as part of his vision to help Ryanair beat the recession.
"We'll just have to keep flying more aircraft, opening up more routes and offering people more cheap flights," he said.
The company, whose average fare, including baggage charges, is currently £37.26, has 31 bases and more than 800 routes in 26 countries.
You should follow me on twitter here.